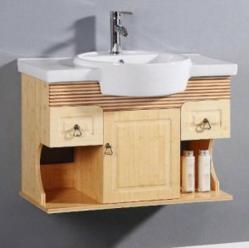 Designers at HomeThangs have spotted that one of the biggest problems with modern bathroom decor is that the minimal design and industrial palette tend to be too cold, and even sterile.
(PRWEB) July 13, 2012
HomeThangs.com has made their goal to deliver the right product to the consumer, with that in mind, shopping and home design tips, as well as special product selections are being introduced.
Designers at HomeThangs have spotted that one of the biggest problems with modern bathroom vanities – and modern bathroom design as a whole – is that the minimal design and industrial palette tend to err a little on the side of stark, cold, and even sterile. But if the bathroom design is given a creative eye, it's more than possible to create a modern decor that's warm and inviting rather than a little alien. The most important first step is to choose a modern bathroom vanity that is either made from solid wood, or has a natural wood finish.
Taking the above into consideration, HomeThangs.com offers a selection of Real Wood Modern Bathroom Vanities, as well as shopping and design tips on how to create a modern bathroom that is warm and inviting.
1. "Modern bathroom vanity" has come to mean vanities that are made of MDF or plywood, and finished with a simple black or espresso finish – no wood grain or, at best, a very minimal "faux" grain, and a palette that's both dark and a little bleak. A vanity with a still-dark but more colorful finish like that on the Red Oak VG09003106K1 bathroom vanity from Vigo Industries is equally dramatic, but not quite so cold. Plus, the deep cherry color adds a touch of sophistication, where a more conventional "espresso" finish can look cheap or mass produced.
2. If it has to be a dark brown finish, a vanity that's either made out of solid hardwood, or at least one that replicates a natural wood grain would add warmth to the modern decor, such as the Ebony Petit VG09035109K1 vanity by Vigo. It's made of engineered wood, but unlike any standard solid-colored espresso finish, it creates a believable grain on all the visible surfaces. A greater degree of variation in color will make up the monotony of a fairly monochromatic decor.
3. Adding even an artificial wood grain makes the modern vanity infinitely more visually interesting, and adds both contrast and color for a dramatic look. Example: Essence V-ESSENCE-24SE vanity by Xylem – it has a very simple construction, but the ebony-striped faux wood grain is quite dramatic – like bold, weathered, tiger-striped wood.
4. In order to add a little warmth to a modern bathroom, vanities that have just a drop of homey in place of the showiness would be the right choice. Natural wood is inherently "warm," especially those with light or golden finishes, such as the Bamboo WTB9003 Vanity by Legion Furniture. They will not only enhance the natural light, but give the impression of a warm, golden glow to the space.
5. The right solid wood modern bathroom vanities will convey the relaxing air of a spa style bathroom. The Light Bamboo WTB9010 vanity by Legion Furniture is a compact, wall mounted version of a traditional open shelf bathroom vanity, done in the light wood finish of a hot stone sauna.
6. Lighter wood tones do not have to be casual. The Archive 84910-01 vanity from Porcher is sophisticated, with stylized pinstripes and a simple yet elegant design. Once again, the texture is every bit as important as the color, this vanity showcases a gorgeous natural wood grain, while the thin carved lines that make up the front panels offer both a visual and textural contrast.
7. There is a place for both darker wood and faux finishes in some modern bathroom vanities. The Knox KNOX-V39-ZW vanity from Avanity, for example, features varied wood tones.
8. Any wood finish, even quality artificial one has a natural luster. The Washington DEC083D-L double vanity from Design Element has dozens of warm toffee colors in a naturally wood grained pattern. Even though it's dark, the variation in color and the lighter, warmer shades help warm a typically cool palette, while the alternating horizontal and vertical wood grain adds some variety and shape to the simple, minimal lines that are emblematic of modern bathroom vanities.
Whether it is a light honey maple or a dark cherry or mahogany, modern bathroom vanities with a wood finish offer a whole new level of design sophistication and make the bathroom space look warmer.
HomeThangs.com is not only a home improvement superstore, it also provides expert design tips and a comprehensive shopping guide, taking the ideas from professional interior designers, and offering tips to the consumers on how to pick the products to best suit their needs.