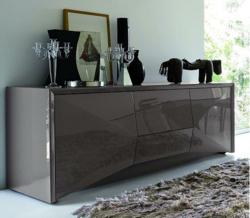 The right sized, right styled modern dining room buffets are much more than a stop gap storage solution. They're the chameleons of cabinetry, alternately displaying and concealing the finest items, all without taking up too much space.
(PRWEB) August 06, 2012
HomeThangs.com – the Home Improvement Super Store has made their goal to deliver the right product to the consumer, with that in mind, shopping and home design tips, as well as special product selections are being introduced.
Ornate carved mahogany and leaded glass cabinets are nothing if not beautiful, but they're out of place in an increasingly minimal dining area. While an old fashioned cabinet is not a very good fit in an ultramodern dining room, china cabinets and dining room buffets still serve an important function, especially for people who entertain often.
HomeThangs has introduced a selection of simple but stylish and luxurious modern dining room buffets as well as tips to get the best of both worlds – the traditional storage with the modern style to fit the contemporary dining space.
1. Dining room buffets offer simple, straightforward utility. So it would help to take an inventory of what exactly needs to be stored before starting shopping. If it's china, how many pieces, if it's a punch bowl, how big it is. Table cloths, party favors, or spare glasses and a cocktail shaker – all has to be taken into consideration in order to figure out the smartest way to store it. The Sapphire Grey buffet by Rossetto has a sleek, glossy geometric design that will look great in a modern space. The design is ultimately pretty simple, focusing on a nice blend of different types of storage (both cabinets and drawers) with just enough style that it'll accentuate the space instead of just occupying it.
2. Once it has been figured out what has to be stored, and how much space it's going to take up, it is easy to get a better sense of what size dining room buffets one should be looking for. Modern dining room buffets tend to be more compact than old fashioned china cabinets. They come in a wide range of shapes, sizes, and styles and it is important to pick the one that will be the least obtrusive in the dining area. The Nightfly White Bar Buffet by Rossetto for example, is narrower and taller than a typical long-but-short dining room buffet to make a torso level workspace for a little added utility – better for use in a bar than in a formal dining room.
3. Modern dining room buffets are much more flexible than old world china cabinets or buffets for the simple reason that their sleek, square lines fit nicely together. For example, the Nightfly White Curio by Rossetto can be used in three ways: as a single, cabinet style display, linked together to make a wall of cabinets with inset glass display cases, or combined with the matching Nightfly Buffets to create a single versatile unit. That means that it can not only fit well in just about any space, but can be easily customized to fit the specific needs.
4. The very best modern dining room buffets do more than just offer the storage space. Minimal modern design is beautiful in its simplicity, but that's no reason not to help it along a little. In order to break up all those simple, straight lines, a dining room buffet, like Tecla Tobacco Oak buffet from Rossetto, that has either open cabinets or enclosed glass spaces will be the right choice. Like the Nightfly curio, this buffet has a slightly museum-like glass case around one corner of the display, which breaks up the simple vertical oak slat construction. It also allows keeping some of the favorite items on display, both protected and shown off even when not in use.
5. Little peep-hole style shelves built into the buffets' front faces, combined with sometimes oddly shaped geometric doors, add a lot visual interest to the piece. The Alma White Buffet by Rossetto is a nice example, with a tiny shelf area that draws attention to the fun shaped doors and drawers. Other than that, it's utterly simple, square, and glossy, but the change of shape and break in the pattern make it just a little bit eye catching.
6. The right dining room buffets are both unobtrusive and nice to look at. They're typically there because they offer that cabinet space, but probably shouldn't be the main focal point of whatever room they're in, and shouldn't distract from whatever the main focus is. One of the best ways to make something subtly more visually interesting is to use texture. The Diamond Ivory Buffet by Rossetto for example, does that with crocodile leather patterned panels just a half shade darker than the body of the buffet, which is just enough to be pleasing without being distracting.
7. It is recommended to have dining room buffets that sit fairly low to the ground. This is a pretty common characteristic among buffets in general, but it's one worth thinking about because it isn't quite universal. While a china cabinet is typically raised off the floor so one can see into it from a dining table, less obtrusive modern dining room buffets are made to sit below eye level.
The right sized, right styled modern dining room buffets are much more than a stop gap storage solution. They're the chameleons of cabinetry, alternately displaying and concealing the finest items, all without taking up too much space.
HomeThangs.com is not only a home improvement superstore, it also provides expert design tips and a comprehensive shopping guide, taking the ideas from professional interior designers, and offering tips to the consumers on how to pick the products to best suit their needs.