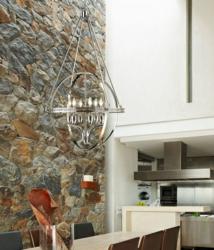 Minimal, modern chandeliers will add both style and sophistication to a contemporary living space
(PRWEB) August 05, 2012
HomeThangs.com – the Home Improvement Super Store has made their goal to deliver the right product to the consumer, with that in mind, shopping and home design tips, as well as special product selections are being introduced.
Chandeliers are typically associated with antique styles and old world design. But for a contemporary living space modern chandeliers are increasingly available, and are simpler, sleeker, and more refined than their conventional counterparts. Minimal, modern chandeliers will add both style and sophistication to a contemporary living space, without any of the overblown decadence of a traditional lighting fixture.
HomeThangs has introduced a selection of modern chandeliers for the contemporary space. Designers at HomeThangs highlighted several key factors to take into consideration when looking for the right chandelier to complement the contemporary decor.
1. The main difference between traditional and modern chandeliers is simplicity of design. While conventional crystal chandeliers have many individual branches and lots of tiny, dimmer lights, modern chandeliers tend to be more geometric and minimal in design. This Hemispheres Chandelier by Elk Lighting is a nice example – it's stunning not for its ornate detailing, but for the simple intersection of geometric shapes – the gyroscope-esque intersection of circles, the pyramid of bars holding them in place, and the simple candle-style lights that seem to hover weightlessly in between.
2. Finish is also quite important to keep in mind when considering modern chandeliers. While most traditional chandeliers (especially crystal chandeliers) are typically made of bronze, brass, or gilt, modern chandeliers are almost always made out of chrome finished or a similarly reflective metal. Most obviously, this is because chrome is the primary finish choice of modern design and nearly ubiquitous in modern furnishings, but also because it looks less opulent and lush but more visually striking. The Dione Chandelier by Elk Lighting is fairly traditional in shape, but the use of chrome and complete removal of expected ornamentation make this piece unexpected and eye catching.
3. Some modern chandeliers, such as Parisienne Chandelier by Elk Lighting for instance, are much more loosely inspired by the design of traditional chandeliers. The cylindrical shade is typical of hotel-style chandeliers, but instead of a cascade of simple crystal teardrops out the bottom, it features a cool, geometric, maybe slightly retro swag of reflective metal rings (in this case, silver leaf instead of chrome) with crystals suspended in the center. It's a modern twist on an old style with all the decadence and sophistication of a traditional chandelier, but made for a modern space.
4. The coolest modern chandeliers are the ones that forsake the conventional chandelier design entirely. For example, the Odyssey Chandelier by Elk Lighting, which merges the modern use of chrome with more conventional crystals in a totally unique style. Instead of a central frame with dangling crystals, this modern chandelier is made of many multiple strands of chrome wrapped crystal beads, with 18 lights that gleam and reflect off the metal and crystal. The placement of the strands forms a mass of crystals that are at once floating and disembodied and part of a solid whole – a great visual trick for a modern decor, and a nice way to integrate traditional materials into an extremely modern design.
5. Some modern chandeliers are anything but traditional, though – not in form or materials. The Solexa Chandelier by Elk is fairly round in shape, but instead of suspended strands of crystals, this chandelier is made almost entirely of blown glass – long tapered tubes connected at the center that fold out, flower like, at the ends for a stunning starburst appearance. It's totally out of the realm of the expected for a chandelier…which makes it a good modern statement piece.
6. The Villa Chandelier has a slightly more traditional shape – a central hub with branching out lights – but again infuses a traditional design with a more playful modern twist. In this case, that means sticking with a conventional bronze body (which is quite unusual among modern chandeliers), but turning it into a sinuous floral design, with a looping, winding, leaf-like body and veining branches that burst into colorful glass flower-shaped light shades. Such chandelier is will work in a more intimate modern design – one that's more artistic and less cold and geometric. Plus, it comes in several different sizes and colors to flexibly match just about any color palette.
7. For a smaller space, especially one with lower ceilings (like an urban apartment or condo), a chandelier with a lot of drapes or droops would not fit. Something like the Skyline Chandeliers by Elk Lighting will work well in smaller spaces. Mimicking a panoramic city view, these pendant style chandeliers are simple but stylish, and can easily be repeated throughout a long or odd shaped room.
HomeThangs.com is not only a home improvement superstore, it also provides expert design tips and a comprehensive shopping guide, taking the ideas from professional interior designers, and offering tips to the consumers on how to pick the products to best suit their needs.