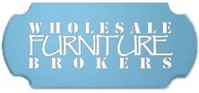 Italian design, German quality, Chinese prices
Los Angeles, California (PRWEB) December 6, 2009
Online shoppers can now find 290 new modern classic furniture designs by Alphaville Design at Wholesale Furniture Brokers' USA and Canada websites. The new furniture collection showcases sophisticated designs for dining rooms, living rooms, and home offices including dining tables, bar stools, sectionals, sofas, convertible sofas, coffee tables, end tables, and office chairs.
Popularity has grown for Alphaville Design products on the Wholesale Furniture Brokers' websites since they were recently added. One of their products has already made its way to GoWFB.com's best seller list. This is the 2 PC Lily White Leather Side Chair Set, which is manufactured with a steel frame and recycled leather. The Gino Black Bar Table, on the other hand, is a best seller on GoWFB.ca. This sleek design is made with a chrome base and a fiberglass table top.
"Alphaville Design products add a mixture of modern classic furniture designs to the Wholesale Furniture Brokers' collection," says Matt Holmes, Wholesale Furniture Brokers' Marketing Manager. "The Alphaville Design brand is known for its value priced selection of modern classics. Wholesale Furniture Brokers will now be able to offer an impressive selection to customers searching for modern furniture online."
Customers can order Alphaville Design furniture from Wholesale Furniture Brokers' USA and Canada websites. They can click on each listing to find out more information on the products. Customers shopping on the USA website will not have to pay sales tax.
Alphaville Design offers award-winning modern classic furniture for every room in a home. It supplies and distributes its products to the world's leading retailers, contract firms, and hospitality groups. Since its foundation in 2003 by respected furniture veteran David Lee, the company has unfailingly exceeded customer expectations and continues to add products that reflect cool confidence through clean lines and contemporary sophistication. Among their award winning collection that can be found on the Wholesale Furniture Brokers' websites are the Bertoia, Hoffman, Le Corbusier, and Mies inspired designs.
The new products are manufactured in China following high European quality standards. According to the Alphaville Design website, "Italian design, German quality, Chinese prices" is the Alphaville Design way. They use premium Italian hides and the most consistent #304 stainless steel from Korea during production. According to Alphaville Design's website, "The tailoring, the hand, and the love that goes into every product continue to this day." In addition to their high quality materials, Alphaville Design maintains their own independent third party team of inspectors, designers, and managers to make sure that each product complies with their high standards of quality. They also work with independent testing laboratories and submit random samples on a regular basis.
About Wholesale Furniture Brokers
Wholesale Furniture Brokers offers price leading furniture to online customers direct from the manufacturer in the USA and Canada. World class customer service is provided to customers by telephone, email, and chat. Shoppers can choose from a growing collection of furniture styles for inside and outside of the home at Wholesale Furniture Brokers. Furniture retail businesses and interior designers interested in ordering furniture available on GoWFB.com, including Alphaville Design, can apply for Wholesale Furniture Brokers' furniture dealer and vendor program.
# # #