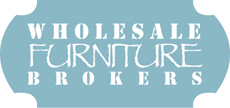 The new arrivals by True Contemporary feature unique classic Italian styles that haven't been available at GoWFB.com before. We're excited to see how our customers react to the bold new designs.
Los Angeles, California (PRWEB) May 23, 2012
Wholesale Furniture Brokers has added 30 new products including bedroom sets, sectionals, and sofa sets by True Contemporary to its US online store, GoWFB.com. "Italian Classic Furniture is now a new style we're offering our customers," says Matt Holmes, Wholesale Furniture Brokers' Marketing Manager. "We're debuting the new products with free shipping and no sales tax to give our customers even more value when they order online from us."
The Vanity White Classic Italian Bedroom Set features a wave design with light pink and off-white contrasting. The 6 piece contemporary bedroom furniture set retails for $3269 in the US. The Blossom Purple Bedroom Set is upholstered in a purple fabric and features a curved headboard. The 4 piece set retails for $4249 in the US. The Munich Teal Floss Fabric Bed is upholstered in teal fabric and retails for $4399 in the US.
The Saint Petersberg Leather Sectional Sofa is upholstered with two-tone fabric and white leather. The sectional includes 3 matching throw pillows and retails for $3289 in the US. The Liverpool Black Leather Circular Sectional Sofa features real leather on the seats and leather match on the back. The pieces can be arranged in any configuration. The leather sectional sofa retails for $2749 in the US. The Polaris Black Bonded Leather Sectional Sofa features 2 decorative lights, side drawer, and a half shelf. It retails for $3119 in the US.
The Metropolitan Grey Microfiber Mini Sofa Set is designed with inset crystals and upholstered with multi-toned grey fabric. It retails for $3339 in the US. The Cosmopolitan Red Mini Sectional Sofa features tufted velvet upholstery. The arms and back are designed with a gentle sloping curve. The modern living room furniture set retails for $3939 in the US.
Canadian shoppers interested in ordering the new True Contemporary products that are not yet available on Wholesale Furniture Brokers' Canadian online store, GoWFB.ca, can call for a quote.
About Wholesale Furniture Brokers
Wholesale Furniture Brokers offers price leading furniture with free shipping to online customers direct from the manufacturers in the USA and Canada. World-class customer service is provided to customers by telephone, email, and chat. Shoppers can choose from a growing collection of traditional, modern, and contemporary furniture styles for inside and outside of the home at Wholesale Furniture Brokers. Consumers do not need to pay a membership fee to buy from Wholesale Furniture Brokers.