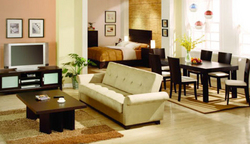 Their sustainable practices, high quality construction, and the straight, geometric designs will give our shoppers another great reason to buy contemporary and modern furniture on our websites.
Miami, FL (PRWEB) May 26, 2008
With the competition of contemporary and modern furniture rising in the furniture industry, Wholesale Furniture Brokers aims to capture a larger piece of the market by introducing the innovative, minimalist designs of Furniture FX to their online shoppers, affiliate brokers, and registered distributors. "When I first saw the Furniture FX collections, I knew these products would fit perfectly into our contemporary and modern furniture lines," said Wholesale Furniture Brokers Marketing Manager, Matt Holmes. "Their sustainable practices, high quality construction, and the straight, geometric designs will give our shoppers another great reason to buy contemporary and modern furniture on our websites."
Furniture FX was launched in 2007 and manufactures its products through a network of factories throughout Southeast Asia. They maintain a design and quality assurance presence in the region with an office located in Kuala Lumpur, Malaysia. A design and quality control team inspects their products daily to ensure a high level of quality specifications. The transitional contemporary lifestyle furniture, including bedrooms, dining rooms and living rooms can be found in mid to high-end furniture stores throughout the U.S., Canada, Puerto Rico, South America, Singapore and Australia. "Furniture FX sought to partner with Wholesale Furniture Brokers due to their longstanding reputation of representing a manufacturer's products in a professional, retail friendly manner," said Furniture FX CEO, Matt Sansoe. Customers have already started ordering the Furniture FX products on Wholesale Furniture Brokers US and Canadian websites. The number of sales is expected to continue growing across North America.
Combinations of wood, leather, and polished metal offer consumers a choice in the style and texture. The product compilation includes a variety of accent pieces to compliment and complete every set. Coordinating armoires, nightstands, chiffoniers and five drawer chests form the line-up for endless combinations, and a cornucopia of choices. Deliciously named finishes include Deep Cherry, Espresso, and Cappuccino, to name a few. Because of the versatility and variety of finishes available in each style, it is possible to order a bed from one collection that will coordinate with a chest of drawers and a mirror from another. This gives customers a plethora of choice with limitless potential. Everything from urban to suburban, sophisticated to a comfortable lifestyle, with a wide selection of wood finishes.
Wholesale Furniture Brokers will be introducing the Furniture FX collections in their contemporary and modern furniture galleries. The contemporary "Urban Lounge" collection features the next generation of convertible sofas. The "Urban Loft" collection gives customers a complete lifestyle gallery that offers fashion forward modern designs in platform beds, dining table sets, entertainment centers, and occasional tables. The "Urban Black" collection is an upscale solution to a customer's convertible sofa needs. The "Urban Accents" collection gives customers a contemporary twist on simple decorating solutions. Furniture FX will soon be offering new upholstery and sleeping solutions when they reveal their new "Sofa FX" and "Sleep FX" collections later this summer.
At the end of 2007, Furniture FX launched an eco-friendly initiative to demonstrate their efforts to conserve the environment. They identified new resources that can be used to produce eco-friendly furniture. In March of 2008, Furniture FX launched its first eco-friendly product, a Serta branded futon with a new soy-based foam. Over the next 12 to 24 months, Furniture FX plans on replacing more of their polyurethane foam with the new soy-based foam in their upholstery products. Furniture FX is also researching new Forest Stewardship Council (FSC) certified timber that will be used in more of their wood-based products.
Customers ordering Furniture FX on the Wholesale Furniture Brokers websites will also benefit from the attention to packaging of their products. Furniture pieces are shipped on MDF pallets to add protection during shipping. Each piece of furniture is wrapped with a soft foam sheet and protected by a styrene foam case inside a full over-lap double-wall corrugated box. In the past, Wholesale Furniture Brokers has discontinued top selling furniture by other brands from their websites due to a high rate of damage before the product arrives at the customer's home. Furniture FX addresses that problem by developing durable packaging specifically designed for safely shipping each piece of furniture.
The new lines of furniture available by Furniture FX will give Wholesale Furniture Brokers a new look and help them target even more shoppers searching for contemporary and modern dining room, living room, and bedroom furniture. New modern furniture galleries have been created on Wholesale Furniture Brokers to help customers find the new Furniture FX collections.
About Wholesale Furniture Brokers
With over 5 years of online service and open 80 hours a week, Wholesale Furniture Brokers serve their customers online across all of North America and even has showrooms in select cities. They also offer a furniture dealer and vendor program to qualified furniture businesses, giving access to furniture lines in one convenient location, including offerings from Furniture FX.
###