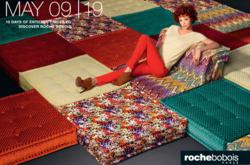 San Francisco, CA (PRWEB) May 09, 2013
Starting May 9, Roche Bobois San Francisco will show off the best of European design and quality during Temptation Days, an exclusive event featuring new luxury furniture from renowned designers.
Those who come into the San Francisco contemporary furniture store will discover new pieces and collections from innovative designers like Ora Ito, a modern and iconoclastic artist famous for creating the first ever virtual brand. He uses his artistic talent to create pieces that blend formal purity with rational functionalism, which Ora Ito describes as "giving complex objects a simple—or uncomplex—appearance." His pieces are renowned for its fluid movements, pure lines and dynamic shapes—an aesthetic that fits Roche Bobois' ethos of savoir-faire.
During Temptation Days, those who visit the Roche Bobois San Francisco store can also take advantage of their éditions spéciales at exceptionally attractive prices, for a limited time only. Find inspiration in the shapes, materials and colors of Roche Bobois' custom furniture during this special event. Each Roche Bobois furniture piece is made in Europe and manufactured from sustainable materials, giving a modern and ecofriendly look and feel to any room.
Temptation Days begins May 9 in the Roche Bobois San Francisco store. For an exclusive first look of the special pieces featured during Temptation Days, visit the modern furniture brand's Pinterest page. To stay connected with Roche Bobois and for an in-depth look into their collections and all things luxury in San Francisco, follow the Roche Bobois San Francisco Pinterest and Tumblr pages.
About Roche Bobois San Francisco
Roche Bobois was founded in 1960 following the merger of two Paris furniture retailers. The firm soon became the French furniture brand. The twice-yearly published collections are the last word in lifestyle and are designed in association with top international designers and the most prestigious fashion houses. The collections are split between the Contemporary and Nouveaux Classiques to offer a complete panorama of design and style.
Roche Bobois is present in 45 countries. Roche Bobois San Francisco is located in the heart of the Design District. Its showroom features the latest collections with pieces that are well-crafted and designed from the finest materials and customizable to fit unique preferences and tastes.
Visit the Roche Bobois store at 701 8th St, San Francisco, CA 94103 to experience the latest in European contemporary furniture.