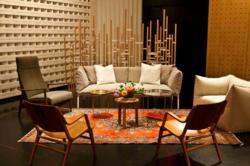 We were selected based on our use of space, understanding of the mood they wanted to create and our ability to select significant design pieces
San Francisco, CA (PRWEB) July 24, 2011
Supernatural Bay Area modern interior design studio and showroom in San Francisco, announces they had a featured design displayed at SFMOMA from June 3 to 5. Their inclusion was called the "Stein Living Room" and coincided with SFMOMA's exhibition "The Steins Collect".
"SFMOMA invited us to submit a design proposal for this event," said Robert Allen, co-owner of Supernatural. "We were selected based on our use of space, understanding of the mood they wanted to create and our ability to select significant design pieces."
Supernatural Bay Area contemporary furniture created a salon-style living room with a mix of classic and modern design. New designs from Stephan Diez for e15, Jean Marie Massaud for MDF Italia and Christien Meindertsma for Thomas Eyke were mixed with mid-century classics from Mario Bellini and Milo Bauman. Supernatural's showroom in Potrero Hill was completely taken apart and reassembled at SFMOMA in a completely different style and showed the versatility of their products and their mix of innovation with tradition. Supernatural also partnered with neighboring showrooms Robollo Home, Coup d'etat, Almond Hartzog and B&B Italia and Council Design to bring together an eccentric mix of styles and eras in design.
Supernatural, a Bay Area design gallery and interior design studio, offers a carefully curated selection by international designers and manufacturers. Supernatural creates a shelter for living, passion, and sensibility with some of their most pioneering contemporary European furniture lines. As a modern furniture design gallery in San Francisco, Supernatural reflects the casual elegance and relaxed luxury of the Bay Area lifestyle. Together, owners Robert Allen and Claudia Mahecha have expanded from a small interior design business to their current design studio and showroom in Potrero Hill. With more than 10 years of design experience working in contemporary furniture design in San Francisco, Claudia is able to provide exceptional design services throughout the Bay Area.
To learn more about Supernatural, call them at (415) 355-9004 or visit them at 1766 18th St. San Francisco CA 94107. View their website at http://www.supernaturalsf.com or find "Supernatural SF" on Facebook.
About Supernatural
Supernatural Bay Area modern furniture is an innovative design showroom and interior design studio in the Potrero Hill design district of San Francisco. Their carefully curated collection of modern furniture welcomes in a new design era with some of the finest brands throughout Europe. Celebrated product designers and major European manufacturers such as e15, MDF Italia, Arflex, Riva 1920, Droog, and Tisettanta are represented here.
# # #