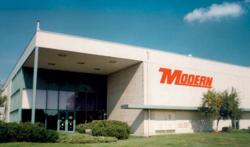 "While 91% customer referral rating is extraordinary, we won't be happy until we achieve 100%", Paul Farrell, COO
Bristol, PA (PRWEB) June 26, 2012
In a recent customer satisfaction survey conducted by an independent marketing firm, 91% of Modern Group customers were extremely or very likely to recommend Modern Group to friends and colleagues*.
This survey is part of an ongoing Modern Group initiative to measure customer satisfaction. The research is derived from a ongoing panel consisting of more than two thousand customers annually measuring customer satisfaction.
"While 91% customer referral rating is extraordinary, we won't be happy until we achieve 100%," said Paul Farrell, COO at Modern Group. "Regardless we are appreciative of the high ratings that our customers give us and the confidence that they have placed in Modern. We seek to repay that confidence every day.The most important thing we need to do is to serve our customers well across every aspect of our business from sales, service, parts, rental and training. We seek excellence in every area. And we are proud that many of our customers feel we are delivering. But again, we can not rest on our laurels. We know we are only as good as our last sale and interaction," Farrell added.
About Modern Group
With more than $100 million of collective annual sales, Modern Group provides sales, leasing, short-term rental, service, parts, training and financing solutions through its forklifts, power systems, construction, and warehouse products businesses. Modern is a 100% employee-owned ESOP with more than 320 owners at ten locations serving Pennsylvania, New Jersey, and Delaware. For more information visit http://www.moderngroup.com

Based on a survey of 1000 customers from January-May 2012 in which customers indicated how likely they were to refer Modern to a friend or colleague based on a scale from 0 to 10 with 10 being extremely likely.