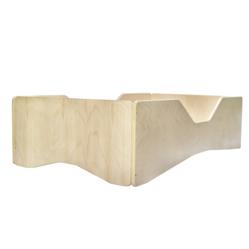 The topic of a toddler bed kept coming up
Louisville, KY (PRWEB) November 05, 2012
Sodura designs and produces eco-friendly, modern kids furniture at their facility in Louisville, KY. This year at the ABC Kids Show, they introduced their first toddler bed, based on their popular Aero collection. The Aero collection is marked by its modern, sleek curves and the new toddler bed falls right in line with the rest of the bunch.
"A toddler bed wasn't a direction that we thought we would be going originally, but the topic kept coming up. So, we eventually we heard what people were trying to tell us and the Aero Toddler Bed is the answer" says Brian, GM at Sodura.
The new item is a continuation of the successful Aero line of modern kids furniture that Sodura has been producing for some time now. It's known for the clean lines and sleek curves, and the use of real wood and eco-friendly finishes. Sodura also recently introduced it's whey finishes which made all of their collections in the forefront of eco-friendly kids furniture. The Aero toddler bed also sports of all of those features.
Sodura was started in 2011 by two parents who wanted to produce furniture that was real furniture made with the best and most eco-friendly materials. Sodura focuses on modern designs to fit in any space, using eco-friendly materials and doing it all right here in the USA.