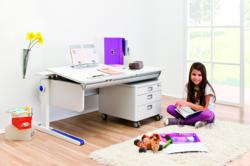 We are excited to be offering this advanced kids desk and chair. The ability to adjust parts separately makes it great for growing kids.
Louisville, KY (PRWEB) June 04, 2013
Modern Tots is an ecommerce company that sells modern children's products, specializing in children's furniture, and they are excited to be adding children's desks and desk chairs. The new items are fully adjustable kids desks and chairs which are made by Moll, a renowned German furniture company. The Champion Desk is ergonomically designed to grow with children enabling use from primary school age to high school age children. It also features a tilting desk top and yo-yo pulley system to adjust the desk height to a comfortable level.
The Maximo Chair, which is available in 3 colors, is also ergonomically designed and encourages healthy posture. The height of the back rest, the seat depth, and the seat height all adjust independently, making it comfortable for kids at every stage of growth. It features a removable seat cover for easy washing. There are several options available, such as a 3-Drawer Storage Cube, Cable Duct Cover to hide cords and plugs, and a drawer cover for added privacy.