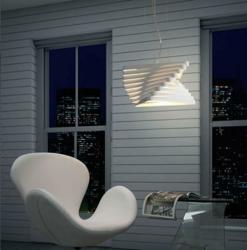 White lighting fixtures become a central statement piece in any room, drawing the eye whether they're turned on or not.
(PRWEB) June 05, 2013
HomeThangs.com – the Online Home Improvement Store has made their goal to deliver the right product to the consumer. With that in mind, shopping and home design tips, as well as special product selections are being introduced.
White is a favorite choice in modern design, especially in terms of modern lighting. The simple color gives intricately detailed and unusually shaped lights a statuesque quality. This makes not only for a very pretty fixture, but one that can even act as a central decor element in a room. HomeThangs.com has introduces a guide to using white lighting fixtures to play with light and shadow, and create a sense of shape and motion.
White lighting fixtures made of simple stacked, slightly offset repeating shapes create a spectacular sense of motion. Though they typically don't move, the way each layer of the light is offset is reminiscent of a mobile. The light that shines through the cracks between each layer enhances this sensation of motion and depth, while the juxtaposition of the lines creates the illusion of curves.
The stacked shapes don't have to be flat, either – curved pieces can be used to create beautiful, three dimensional objects and spirals that are much more complex than the individual parts they're made of. The best of this type of fixture are ones where the individual pieces are spaced close enough together to create the illusion of a solid object, but are just far enough apart to allow a little light to slip through. The result is a beautiful contrast of light and shadow, the impression of movement, and above all, incredibly unique white-on-white design.
One of the greatest things about white lighting fixtures is that white shows every shape and every curve. Light from the fixture and ambient light both highlight edges and folds dramatically in a sharp contrast of light and shadow. Repeating textures (like ruffles) work especially well. More than most types of lamps, and certainly more than any other color, white lighting fixtures offer an extremely tactile experience, with every detail shown as the light filters through different parts of the light differently.
Highly detailed white lighting fixtures are especially lovely in rooms that get a lot of natural light. Even when turned off, the color makes them appear extremely bright, while the "dark side" (or part facing away from any windows) shows off the texture of the light as it gradually falls into shadow. White lighting fixtures in general and modern pendants in particular become a central statement piece in any room, drawing the eye whether they're turned on or not.
Where white lighting fixtures bend inwards, they appear brighter, while outer edges are darkened. Smart designers take full advantage of this fact and play up the edges and indentations to full effect. In fact, some white lights are specifically shaped so they cast shadows on themselves. That way, not only does the "eye" of the light seem to glow, but the carefully arranged shape has a double appearance of depth.
White lighting fixtures have the freedom to be a whole lot more bold than most other designs. Because ostensibly a white fixture can blend back into a white background more than, say, a lamp done in neon orange and butterfly polka dots, they can get away with a lot more without actually looking busy. Rather than looking busy, even very intricate and complicated lighting fixtures look statuesque and modern– a statement piece that manages to be both subtle and bold.
To see more white lighting fixtures, read the full article here, or check out the lights from Zuo Modern or Nuevo Living
HomeThangs.com is not only a home improvement superstore, it also provides expert design tips and a comprehensive shopping guide, taking the ideas from professional interior designers, and offering tips to the consumers on how to pick the products to best suit their needs.