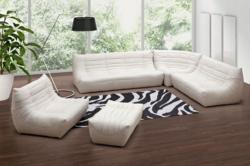 Matching materials and patterns is one of the easiest ways to find a modern living room set that will fit well with the existing decor.
(PRWEB) July 27, 2012
HomeThangs.com – the Home Improvement Super Store has made their goal to deliver the right product to the consumer, with that in mind, shopping and home design tips, as well as special product selections are being introduced.
Choosing the right modern living room furniture can be difficult, though. HomeThangs offers a few tips on how to pick living room furniture for a modern décor that would with the rest of the room setting.
1. While modern sofas and loveseats run the gamut from ornate, funky and futuristic pieces to simple and starkly minimal, for a unified design the furniture has to fit with the rest of the decor. For example, Button living room set by Zuo has a pattern that's easy to match and fairly common in modern furniture – simple, dimpled leather squares with an overall very geometric shape. The leather has a slightly old world feel to it, but the shape of the Sofa, Love Seat , Arm Chair, and Ottoman are all modern and easy to accessorize or match with other pieces, and are available in both black and white to match almost any setting.
2. Matching materials and patterns is one of the easiest ways to find a modern living room set that will fit well with the existing decor. White and black leather are ubiquitous in modern design, but it can be taken a step further by some additional elements, like exposed frame for example. Fortress modern living room set by Zuo for instance, - the Sofa, Love Seat, and Arm Chair are bent with thin chrome tubing. Not only does that make it easy to match with just about any chrome-legged coffee table, it also adds strong lines to the room, making it seem wider as the eye is drawn from one line to the next.
3. The simplicity of a minimal design opens up a lot of room for creativity. More often than not, modern living room furniture comes in modular sets – essentially sectionals, but typically in smaller building blocks than an average corner sofa. The Bond modern living room set by Zuo, for example, features a two-tone leatherette structure and small, single-seat building blocks. Each piece is purchased separately – a Middle Chair, Chaise, Ottoman, and Swivel Chair – but they all fit seamlessly together, so one can tailor a personal set to exactly the space and style needed.
4. Going a modular route for modern living room furniture not only gives the flexibility to fit and fill just about any space. It also affords the ability to host a whole lot more people in the same amount of space. Because each piece fits snugly together, one can easily seat more people per piece of furniture comfortably than one could with regular living room furniture. And because corner pieces fit easily into awkward spaces, but are just as comfortable to sit on, more usable space can be made out of what's available. The Circus modern living room set by Zuo, for example, has three different chair sizes (Single Seat, Love Seat, and Sofa) plus a Corner Chair to get the perfect configuration.
5. Modular modern living room furniture is easy to break apart and rearrange. For example, Carnival collection by Zuo. Not only can one buy whichever sized or shaped pieces needed, but any piece can be added on later. Whether going for a conventional L-shaped sofa sectional, individual matching pieces spread throughout the room, or something a flexible seating set like one from Zuo with a Sofa, Single Seat, Love Seat, Corner Chair, and Ottoman makes it supremely easy to decorate.
6. Modular doesn't necessarily refer to the flexible assembly of the set – it can refer to the individual pieces of furniture themselves. Tsutsumi Lounge from EuroStyle is a set made of three pieces: a chair, an ottoman, and a side table. With one of each, it makes a recliner. More than that and one can build an entire modern living room sectional set with three easily interchangeable pieces. The table has a removable piece in the center which creates a space to store magazines, books, or remotes, but when pressed against other pieces makes a seamless seating and can extend the length of a sofa.
HomeThangs.com is not only a home improvement superstore, it also provides expert design tips and a comprehensive shopping guide, taking the ideas from professional interior designers, and offering tips to the consumers on how to pick the products to best suit their needs.