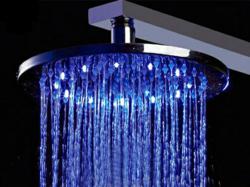 LED shower heads glow in an array of colors that can transform the inside of a shower into a modern statement piece.
(PRWEB) June 06, 2013
HomeThangs.com – the Online Home Improvement Store has made their goal to deliver the right product to the consumer. With that in mind, shopping and home design tips, as well as special product selections are being introduced.
LED shower heads are starting to pop up all over in modern bathroom design. These sleek fixtures light up when the water is turned on, casting a vibrant glow in an array of colors that can transform the inside of a shower into a modern statement piece or a relaxing spa getaway. But while LED shower heads are certainly a novelty, they aren't only for show, and HomeThangs.com has introduced a guide to some of their most useful features.
LED shower heads contain small LED lights dotted in between the spray nozzles. But while LED faucets for kitchen and bathroom taps often rely on batteries to power the lights, LED shower heads are almost always hydropowered. That means the water moving through the shower head itself is what illuminates the lights. One cool side effect is that the brightness of the lights depends on the intensity of the water, meaning the level of light can be adjusted by altering the flow of water.
Some LED shower heads have only one color setting, but the vast majority have at least two if not four or more. In many cases, these colors are triggered by a change in the temperature of the water flowing through them. This gives a visual indicator of the temperature of the water, and, like a more traditional thermostatic valve, offers some protection against scalding water. Unlike a true anti-scald valve, an LED shower head won't turn off if the water rises above a certain temperature (usually in the neighborhood of 120 degrees F), but the light will begin flashing red, visually warning of the danger.
LED shower heads that have more than two color settings (though the most common are red and blue for cool and hot) can give an even more precise indicator of the temperature levels of the water. Those from Sumerain come in green, blue, purple, red, and flashing red, in order of increasing heat. For those who prefer their showers at a very specific temperature, LED shower heads offer a great visual guide to get exactly the right temperature without the danger or discomfort of very hot or cold water before the ideal temperature is reached.
In addition to style and unique safety options, color-changing LED shower heads can also have health benefits. Various colors and especially colored light have been shown to have a positive impact on mood. Shower heads that can produce many multiple colored lights can influence mood right from the morning shower. Of course, this is a little more difficult with a shower head where the colors are linked to temperature, but models where the color can easily be changed offer a simple way to introduce color therapy into a morning routine.
What's especially nice about LED shower heads is that while they offer a whole lot more technological punch than your average shower head, they aren't any more difficult to install. Without any external power source or any other odd parts, installing an LED shower head is as simple as unscrewing the old shower head, cleaning the shower arm, and screwing on the new one. The water flowing through the shower head will provide the light, and long-lived LED bulbs should last for the life of the shower head.
While LED shower heads are easily installed on their own, they also make a nice addition to a larger shower system, and work well as part of a custom shower. Because many LED shower heads are rainfall shower heads, they can easily be added as a secondary or even tertiary shower head, in addition to a standard and hand-held shower. In a custom steam bath, LED shower heads also blend quite well with built-in chromotherapy devices that install directly into the shower wall.
To find out more about LED shower heads, read the full article here, or check out more designs from Sumerain or Alfi.
HomeThangs.com is not only a home improvement superstore, it also provides expert design tips and a comprehensive shopping guide, taking the ideas from professional interior designers, and offering tips to the consumers on how to pick the products to best suit their needs.