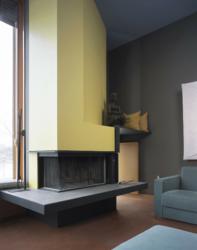 In short, the Rundles Morris House is the epitome of all the things I like about modern architecture and design. — James, the owner of Rundles Morris House
Berlin, Germany (PRWEB) December 27, 2012
Welcome Beyond is proud to announce the addition of a calm, Japanese-inspired get-away in Ontario, Canada, and a modern hideout in the Austrian Alps to its collection of unique vacation rentals & boutique hotels worldwide.
Rundles Morris House in Ontario, Canada
Charming Stratford, less than two hours' drive from Toronto, is one of the best country towns in Canada for a quiet get-away with unparalleled culinary and theatrical offerings. Rundles Morris House is located right in the center of town where everything is within walking distance. The vacation home's modern and minimal architecture and design have been inspired by Japanese architecture Tadao Ando, the angles and openness make it look and feel larger than its actual 1800 square feet. A nicely appointed living room with a wood-burning fireplace offers wonderful views of the Avon River and the parklands. Throughout this unique home, guests will find the finest examples of modernist furniture and lighting fixtures sourced from Europe and North America. Distinct from any other restaurant in town, next-door Rundles Restaurant has been serving gourmet dining since 1977 (where guests of Welcome Beyond will receive a complimentary welcome bottle of bubbly rosé).
Aufberg in Salzburger Land, Austria
Situated 1110 meters above sea level, Aufberg 1110 is the newest addition to the Aufberg and Taxhof family. Perfectly fitting into the surrounding landscape, this thoroughly modern vacation home is a perfect hideout with amazing mountain and lake views in the Austrian Alps. "Built completely out of wood it is economical, sustainable and warm. The natural larch facade will grow old gracefully and the whole house and its interior was made by Austrian artisans." owner Andrea describes it more closely. Different ceiling heights, windows like pictures on the wall, little niches and the open fireplace create a cozy and comfortable lodge-like atmosphere. Guests can go on hiking or on mountain bike tours and enjoy views from the panoramic Großglockner Hochalpenstrasse and should make sure to leave time to indulge in Aufberg 1110's relaxing spa afterwards.
About Welcome Beyond
Welcome Beyond is a carefully curated collection of the most beautiful small boutique hotels and vacation rentals in Italy, Spain, France and further afield in Europe, Asia and the Americas.
The collection focuses on quality, authenticity and character and targets style-conscious travelers who regard shelter as a meaningful part of their vacation experience. Welcome Beyond takes away the hassle of browsing through hundreds of sites to find a truly memorable vacation and has been recommended by The New York Times, The Guardian, Elle Magazine, Vogue and many others.
For more information about Welcome Beyond and other unique vacation properties visit: Welcome Beyond