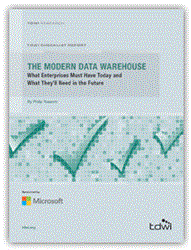 A leading goal of the modern data warehouse is to enable more and bigger data management solutions and analytic applications.
Seattle, WA (PRWEB) November 21, 2013
TDWI Research has released its newest Checklist Report, The Modern Data Warehouse: What Enterprises Must Have Today and What They'll Need in the Future. The report examines the new demands being placed on data warehouses and the features these warehouses must support now and in the future.
For organizations that need a modern data warehouse that satisfies new and future requirements, TDWI's Philip Russom, the author of the report, provides a checklist of the top six recommendations that can guide an enterprise's selection of vendor products and solution design. Russom drills down into each requirement, listing and discussing most of the new vendor product types, enabling technologies, and user best practices that are in use today and will be even more commonplace in the near future. He also discusses the business cases and technology strengths of each requirement.
"Many organizations need a more modern data warehouse platform to address a number of new and upcoming business and technology requirements," Russom writes. "Most of the new requirements relate to big data and advanced analytics, so the data warehouse of the future must support these in multiple ways."
Russom points out that a "leading goal of the modern data warehouse is to enable more and bigger data management solutions and analytic applications, which in turn helps the organization automate more business processes, operate closer to real time, and through analytics learn valuable new facts about business operations, customers, products, and so on."
The Checklist Report focuses on helping organizations understand what their data warehouse of today—and the near future—will have to do to help them meet business challenges and gain competitive advantage. It explains how enterprises can deploy a data warehouse as a foundation for leveraging big data and looks at why today's data warehouses must be able to handle multi-structured data so enterprises can gain new and unique business insights.
In addition, the report:

Discusses the enabling technologies, such as Hadoop, that help organizations reap the benefits of multi-structured data
Explains why organizations must implement advanced forms of analytics to enable discovery analytics for big data in their warehouse environment
Looks at the importance of near-real-time business intelligence and its role in delivering data faster and examines technologies to accelerate business insights, such as columnar data stores and in-memory databases
Considers the importance of integrating multiple platforms into a unified data warehouse architecture
Reveals the importance of high performance and scalability of all data warehouse components and the role NoSQL, massively parallel processing (MPP) architectures, and Hadoop play in enabling performance and growth
This research was sponsored by Microsoft.
For a complete copy of the report or to ask questions of the author, members of the press should contact Philip Russom at prussom(at)tdwi(dot)org.
Download the Report
The report is freely downloadable by the public at http://tdwi.org/research/2013/11/tdwi-checklist-report-the-modern-data-warehouse.aspx; a short registration is required for those downloading a TDWI report for the first time.
About the Author
Philip Russom is director of TDWI Research for data management and oversees many of TDWI's research-oriented publications, services, and events. He is a well-known figure in data warehousing and business intelligence, having published over 500 research reports, magazine articles, opinion columns, speeches, Webinars, and more. Before joining TDWI in 2005, Russom was an industry analyst covering BI at Forrester Research and Giga Information Group. He also ran his own business as an independent industry analyst and BI consultant and was a contributing editor with leading IT magazines. Before that, Russom worked in technical and marketing positions for various database vendors. You can reach him at prussom(at)tdwi(dot)org, @prussom on Twitter, and on LinkedIn at linkedin.com/in/philiprussom.
About TDWI
TDWI, a division of 1105 Media, Inc., is the premier provider of in-depth, high-quality education and research in the business intelligence and data warehousing industry. TDWI is dedicated to educating business and information technology professionals about the best practices, strategies, techniques, and tools required to successfully design, build, maintain, and enhance business intelligence and data warehousing solutions. TDWI also fosters the advancement of business intelligence and data warehousing research and contributes to knowledge transfer and the professional development of its members. TDWI offers a worldwide membership program, five major educational conferences, topical educational seminars, role-based training, on-site courses, certification, solution provider partnerships, an awards program for best practices, live Webinars, resourceful publications, and an in-depth research program. For more information, visit tdwi.org or follow us on Twitter @TDWI.
About 1105 Media
1105 Media, Inc., is a leading provider of integrated information and media in targeted business-to-business markets, including specialized sectors of the information technology community; industrial health, safety, and compliance; security; environmental protection; and home healthcare. 1105's offerings span print and online magazines, journals, and newsletters; seminars, conferences, and trade shows; training courseware; and Web-based services. 1105 Media is based in Chatsworth, CA, with offices throughout the United States.
###
Media Contact:
Philip Russom, TDWI
prussom(at)tdwi(dot)org; (781) 862-2880