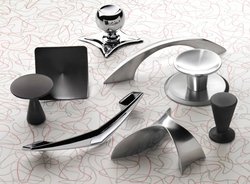 We scoured eBay, garage sales, and our own salvage department to gather originals for this cool new collection
Portland, OR (PRWEB) October 30, 2008
Satellite announces its new line of Atomic Age-inspired cabinet hardware which captures both the simplicity and the drama of the 1950s and '60s. This stylish new Mid-Century Modern collection evokes the era's chrome-clad automobiles and the daring lines of supersonic jets and modern architecture.
'Retro cool' hardware complements numerous design styles
Whether for restoring an all-steel kitchen, updating old wood cabinets or building something new, Satellite's cabinet hardware comes in eight retro styles that can add a sleek design sensibility to any room.
"We scoured eBay, garage sales, and our own salvage department to gather originals for this cool new collection," said Bo Sullivan, Rejuvenation senior designer and historian. "My favorite is the Tall Mushroom Knob, which looks like it ought to be on the teak drawer front of a George Nelson cabinet,"
Unveiling the new Satellite line
This line of authentic die-cast cabinet hardware features eight classic styles. The knobs can also be combined with round or star-shaped backplates to create even more impact.
Available: In Polished Chrome, Brushed Chrome, or Lacquered Oil-Rubbed Bronze. Pricing: Knobs and pulls are $4. Knobs with backplates are $7.
Hardware
Round Dish Cabinet Knob: Perhaps the most common and classic knob of the mid-century era, this 1-1/2" knob features an elegantly dished concave face and generous proportions. Available with two backplate options.
Modern Square Knob: Mixes the classic mid-century concave face with a modified square outline to produce a unique retro look. Can be mounted on the square or on the diamond, and offers a distinctive look with decorative backplates.
Saturn Knob: This simple cabinet knob is based on the Schlage original of the same name, and features a subtle concave face on a perfect sphere. Also offered with both backplate choices.
Tall Mushroom Knob: With its subtle form and proportions, this George Nelson-inspired knob offers a dramatic alternative to plain cabinet knobs. Its deep projection makes it easy to grasp and its smooth face is a pleasure to touch.
Peg Knob: The clean and unusual tapered shape of this knob makes a bold statement while remaining simple and thoroughly modern.
Boomerang Pull: A sleek icon of mid-century kitchen design, it suits cabinet drawers like chrome trim on a Cadillac Coupe. This Atomic Age classic coordinates well with many cabinet knobs.
Sharp Arched Pull: Elegant and crisp, this arched drawer pull evokes supersonic speeds and clean modern profiles.
Whale Tail Pull: The "whale tail" shape melds graceful parabolic curves into a strikingly elegant mid-century pull.
Backplates
Round Backplate: Available separately or as a classic backplate for Satellite's mid-century knobs, this shallow disc increases the visual impact of cabinet hardware and protects against dirt and scratches.
Star Backplate: This iconic Atomic Age starburst backplate can be installed vertically or horizontally to create a boldly retro look on our knobs or yours.
About Satellite:
Mid-century architecture and design is characterized by the use of clean and organic lines, a lack of ornamentation, and the innovative use of materials such as glass and aluminum. Satellite's period-inspired product line celebrates the rejuvenation of mid-century lighting and hardware. Modern design enthusiasts, as well as those who enjoy retro classics, are invited to explore the postwar Atomic Age at http://www.satellitemodern.com.
About Rejuvenation:
Rejuvenation was founded in 1977 with a passion for old houses and buildings. Today, it is America's largest manufacturer and leading direct marketer of classic American lighting and house parts. Products are sold through the company's catalogue, website (http://www.rejuvenation.com), and retail stores in Portland, Ore. and Seattle, Wash. Long celebrated for its Arts & Crafts, Colonial Revival, and Deco-era reproductions, Rejuvenation's new Satellite line features Mid-Century Modern lighting and hardware from the 1950s and early 1960s (http://www.satellitemodern.com). The company donates ten percent of its profits to non-profit organizations dedicated to environmental conservation, historic preservation, the arts, and equal-access housing.
###