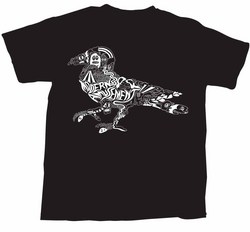 Originality and pushing the boundaries is always something that has been important to me
Costa Mesa, CA (Vocus) March 16, 2009
Modern Amusement, the men's and women's contemporary collection known for a graphic sensibility and intelligent sense of humor, has just launched a Jeremyville designed T-shirt for fall 2009 as part of the popular Modern Amusement "Artist Series" Wearable Art Collection.
"Originality and pushing the boundaries is always something that has been important to me," said artist, product designer and animator, Jeremyville about his collaboration with Modern Amusement. "I respect what Modern Amusement does and that's the foundation for any collaboration I get involved in."
The Jeremyville Modern Amusement "Artist Series" T-shirt will be produced on black shirts with white graphic. The T-shirt has a classic feel with a modern design, and features quintessential Jeremyville art with an air of 70's psychedelic imagery all contained within the Modern Amusement crow silhouette,
"I took the Modern Amusement crow silhouette and did my thing inside of that. When I draw I sort of switch off my thoughts and let the pen flow across that page. That gives the best results and is a lot more true to what is happening inside me. I hope that others can make that connection too," added Jeremyville. "I guess that's what Jeremyville is about, it's a state of mind that others can relate to. It's not for everybody, just those who really get it. I see a similarity with MA in that sense too and can definitely relate to MA."
Retailing for $50, the Jeremyville Modern Amusement "Artist Series" T-shirt will be available starting August 2009 at specialty boutiques and department stores worldwide where MA is sold.
About Jeremyville:
Jeremyville is an Australian native and splits his time between Sydney and New York City. Depending on his mood, and the time of day, he designs toys, writes books and editorials, paints murals, creates animation, produces his Jeremyville clothing label, and runs his online clothing store, http://www.jeremyville.com.
About Modern Amusement:
Modern Amusement is the California dream inspired by international art, music, technology and design. It is an eclectic collection that references a privileged lifestyle of the sun-drenched West Coast from Laguna Beach to Malibu. Distinguished by our attention to ironic detail, sophisticated ease, whimsical nature, graphic energy and sense of humor, every Modern Amusement piece holds an element of surprise and discovery. Every stitch has a purpose. And, in every detail there is a story to be told. Modern Amusement is always clean, relaxed and comfortable - qualities inherent to our California birthright.
Press Contacts:
Erika Klein
Shout Public Relations
(949) 574-1440
###