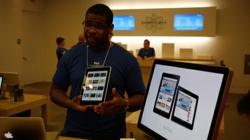 Los Angeles, CA, (PRWEB) April 15, 2013
Continued advancements in online and mobile banking are helping banks attract a younger customer market. In fact, the latest move modern banks have made to heighten their relationship with Millenials is mirroring Apple's store model.
A new article from GoBankingRates reveals big financial institutions like Citibank are testing out "smart banking" branches in areas like Japan, Singapore, and more recently, New York. Included in the layout is a minimalist design comparable to what customers find at Apple locations, interactive touch screen sales walls, self-service stations and video conferencing capabilities with bank associates.
While this makeover copies the appeal of popular Apple stores, modern banks may have missed the target, according to the article.
Casey Bond, managing editor of GoBankingRates explains, "The shiny hardware and eye-catching displays may be aesthetically pleasing, but it's important to understand that Apple's loyal fan base isn't retained through design alone."
Ms. Bond continues, "There is also a connection to the customer, with 'Geniuses' who can provide one-on-one service and guidance in stores. Simply putting up an Apple-esque facade may not be enough for banks to generate return (i.e., happy) customers."
Bank industry professionals are also skeptical about modern banks solely relying on Apple-inspired branch blueprints as a way to attract Gen Y consumers. First Tennessee Bank CMO, Dan Marks, tells GoBankingRates, "As we have seen at a certain large national retailer, dropping concepts that worked at Apple into another category can have disastrous consequences."
The article describes other customer satisfaction factors that modern banks can address to enhance their connection to the Millennial generation.
About GoBankingRates
GoBankingRates.com is a national website dedicated to connecting readers with the best interest rates on financial services nationwide, as well as informative personal finance content, news and tools. GoBankingRates collects interest rate information from more than 4,000 U.S. banks and credit unions, making it the only online rates aggregator with the ability to provide the most comprehensive and authentic local interest rate information.
For questions about this article or to schedule an interview with a GoBankingRates editor, please use the contact:
Jaime Catmull, Director of Public Relations
GoBankingRates.com
JaimeC(at)GoBankingRates(dot)com
310.297.9233 x261
###