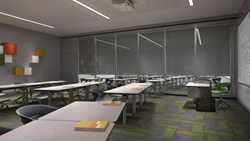 GREENFIELD, Ind. (PRWEB) August 07, 2018
Building on a successful line of high-design glass wall systems with outstanding sound-control technology, Modernfold, Inc. has introduced the Acousti-Clear® Protector Series Line-of-Sight Deployment System. This new safety system, an addition to the Acousti-Clear® Motorized offering, combines sleek aesthetics and effective sound-control technology with important new protective capabilities for schools and other public spaces.
As concerns grow over occupant safety in many kinds of public facilities, inventive and effective new solutions are welcome in the marketplace. Many facilities benefit from the contemporary look, highly desirable daylighting advantages and 45 STC sound control offered by Acoustic-Clear®'s movable wall systems, which provide an excellent, superbly flexible way to structure and restructure interior spaces.
Lines of sight throughout entire facilities, however, can be a concern in certain situations. Alleviating such concerns is the purpose of the first entry in Modernfold's Acousti-Clear® Protector Series.
Equipped with the new Line-of-Sight Deployment System, Acousti-Clear® Motorized installations can eliminate all sightlines at the push of a button, a capability that could provide crucial protection to occupants in emergency situations. The safety system with its motorized blinds promptly sets partition blinds in the closed position, while disabling the closure method and seal operation to effectively secure the partition.
Emergency deployment of the blinds can be carried out in either of two ways:
For point-of-location emergency deployment, blinds in a given partition can be deployed from within the same room, using a button that can be placed anywhere in the room away from the standard key switch and blind control. In a classroom, for example, the Protector Series button could be located behind the teacher's desk and activated to control the partition in that room should an emergency arise.
In emergency situations calling for overall command of the Acousti-Clear® Protector Series Line-of-Sight Deployment System, blinds in all partitions facility-wide can be deployed by one main button located anywhere in the building.
Further Acousti-Clear® Protector Series safety systems are planned to provide protective features that can greatly increase safety and functionality. Modernfold engineering is actively pursuing additional specifiable safety features to extend this series in the future.
For more information, call Modernfold, Inc. at 800-869-9685, or visit http://www.modernfold.com.
About Modernfold
For more than 93 years, Modernfold, Inc. has been the premier provider of products that enable optimal space utilization. Whether the primary requirement is acoustical control, versatile space management, energy savings, or daylighting, Modernfold's innovative product solutions assist and facilitate building management. Beginning in 1925, the company helped invent the movable wall industry. Its current product line continues that leadership. In a wide range of installations, outstanding, highly flexible results are provided by Modernfold Operable Partitions, Movable Glass Walls, acoustically rated Acousti-Clear® Glass Wall systems, Acousti-Seal® Encore®, Acousti-Seal® Encore® Automated, Accordion Doors and now ComfortDrive® Automated Space Solutions.
Modernfold became part of the dormakaba Group in 2015. dormakaba Group offers innovative, reliable access and security as well as space division solutions in hotels, shops, sports facilities, airports, at home and in the office. dormakaba is one of the top three companies of access control and security solutions on the global market as well as one of the two global top companies in the space division solutions.
With over 150 years of experience and locations in over 130 countries, dormakaba provides with its more than 16.000 employees a range of future-oriented products, solutions and services that give you a sustainable sense of security. dormakaba Holding AG has been listed on the SIX Swiss Exchange since November 1995.