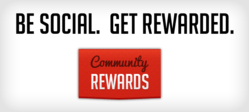 Since launch, Community Rewards communities are already experiencing up to a 400% increase in referral traffic over non-participating communities.
Dallas, TX (PRWEB) July 03, 2012
Modern Message, LLC announced today that Misty (Browning) Sanford, former Dierctor of National Marketing at AMLI Residential, will be joining the company in Dallas, Texas.
With almost a decade of experience in marketing and many years within the multifamily industry, Misty brings a wealth of knowledge and expertise to Modern Message. Having been on both sides of management company / vendor negotiations, Misty knows what apartments need, what appeals to their residents, and, most importantly, how to get the deal done.
"Modern Message is 100% about leveraging emerging technology to provide a better resident experience," said John Hinckley, CoFounder and CEO of Modern Message. "Misty's depth of knowledge and customer contacts within the industry are an asset to the team and immediately increase our ability to deliver the types of programs apartment management companies want and need."
The company was built to address the fragmented nature of online marketing. Currently, apartment management companies pay for content, referral, and social media marketing, yet have very little engagement across all three channels. To solve this, Modern Message recently launched Community Rewards, a cross-platform social referral solution that focuses on delighting current residents and encouraging them to engage online. Since the launch, Community Rewards communities are already experiencing up to a 400% increase in referral traffic compared to the months prior to starting the program.
"Social media is about customer service first and foremost," said Misty Sanford. "What impressed me about Modern Message was not only the strength of their technology, but also that they understand how to tailor their technology specifically to the needs of the multifamily industry. The opportunity to work with and play a major role in such a young and dynamic company was one that I couldn't pass up. Modern Message's passion for the multifamily industry is obvious and their early success is remarkable. Hopefully we can finally bring some much needed change to the industry."
About Modern Message:
Modern Message is the creator of Community Rewards - a cross-platform social referral solution that enables property managers to increase the reach & ROI of their social media presence through "big data" reporting. The company launched nationally in May with both student and conventional apartment communities.The company is comprised entirely of multifamily specialists, and is dedicated to solving mobile and digital marketing challenges for companies of all sizes. Modern Message, LLC is based in Dallas, Texas.
For more information, contact Modern Message at 972-951-8451 or info(at)modernmsg(dot)com.