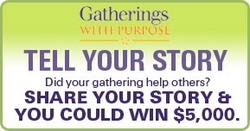 Modern Woodmen of America is launching its second annual $5,000 Gatherings with Purpose Giveaway.
Rock Island, Ill. (PRWEB) October 4, 2010
While it's true "'tis better to give than to receive," doing good for others just became even more rewarding. As the holiday season approaches, Modern Woodmen of America is launching its second annual $5,000 Gatherings with Purpose Giveaway, searching for stories from those who have given the gift of time and touched lives in the process.
Families and friends who volunteered together to meet a community need, raised money for a local cause or added a volunteer activity to a social gathering are eligible to win a grand prize totaling $5,000. During Modern Woodmen's 2010 Gatherings with Purpose Giveaway, one winner will receive a grand prize of $2,500 in cash, plus a $2,500 donation for the worthy cause described in a submitted story.
Modern Woodmen members gather with purpose through local chapters and youth service clubs nationwide. This giveaway is an opportunity to thank others who are also improving communities through volunteerism.
Stories must be submitted online at Gatherings.info by 5 p.m. Central time on Friday, Oct. 22. Submissions should be 400 words or less and describe who gathered, who was helped and how it touched lives. (The more detail, the better.)
Five finalists will be chosen from submissions entered online. Finalists' stories will be posted, and the public will vote online for a favorite beginning Monday, Nov. 1. The gathering with purpose earning the most votes will win the grand prize - $2,500 for the entrant and $2,500 for the purpose described.
Visit Gatherings.info for complete rules and details.
About Modern Woodmen's 2009 Gatherings with Purpose winner
Sarah Herr of Bettendorf, Iowa, received the 2009 award for the story of the volunteer gathering that sparked the formation of the Spartan Sparkles, a cheerleading squad for children with disabilities ranging from Down Syndrome to autism. Since this gathering, the Sparkles have cheered through two football seasons and one basketball season in front of packed crowds and standing ovations. Sarah chose to donate all winnings to the purposes in her story, $2,500 to the Spartan Sparkles and $2,500 to Hand-in-Hand.
About Gatherings
Gatherings.info makes planning family reunions and get-togethers simple, fun and meaningful. As a fraternal financial services organization, Modern Woodmen of America created the Gatherings site to tie to its core value of helping people achieve positive family life.
About Modern Woodmen of America
Founded in 1883, Modern Woodmen of America touches lives and secures futures. The fraternal financial services organization offers financial services and fraternal member benefits to individuals and families throughout the United States.
# # #