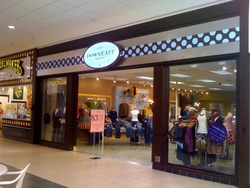 The balance of our boutique fashion looks and the value DownEast brings to the customer has really struck a chord in Idaho. The state has a small-town, friendly nature, and shoppers are very in tune with our offerings and enthusiastic about our presence
Idaho Falls, ID (PRWEB) October 27, 2009
DownEast Basics, a high-style, low-price fashion retailer that specializes in trendy fashions as well as modest clothing, recently celebrated another successful grand opening. The new store is located in the Grand Teton Mall in Idaho Falls, Idaho.
The Idaho Falls store is DownEast's eighth location in the state. It is part of the brand's continued plans for growth in Idaho to meet local consumer demand. According to the retailer, the Grand Teton location's opening sales numbers are among the highest for its new stores, exceeding sales projections by more than 25 percent.
"The balance of our boutique fashion looks and the value DownEast brings to the customer has really struck a chord in Idaho. The state has a small-town, friendly nature, and shoppers are very in tune with our offerings and enthusiastic about our presence," said Rich Israelsen, chief operating officer for DownEast.
The new DownEast Basics location in Idaho Falls is one of its larger stores in the Western United States. The Grand Teton Mall is known as the top regional shopping center and attracts visitors from Eastern Idaho, Southwestern Montana and Western Wyoming. The Idaho Falls metro area itself boasts a population of nearly 123,000.
"We've operated a kiosk at the Grand Teton Mall for several years. We're happy to now provide our customers there with full access to our Basics line at our new retail store location. You'll see our new denim line in this store and an exciting full holiday line that includes modest dresses. It will launch in November at this and all other DownEast locations," said Israelsen.
Visit the New DownEast Basics Store at the Grand Teton Mall
DownEast Basics is located at the Grand Teton Mall, 2300 East 17th Street in
Idaho Falls, Idaho. It is situated near Old Navy and across from Subway. Shareesa White, who has been managing the DownEast Basics kiosk in this mall for the past several months and has other previous retail experience, will manage the store. White will oversee a staff of five employees.
For the latest style updates, special event announcements for local stores and sale and promotional information, shoppers can join the DownEast Basics Facebook Fan Page. They can also follow the DownEast By Design blog (downeastbasicsblog.com) for special insights from DownEast clothing designer Andrea Updike.
DownEast also operates a DownEast Home & Clothing Store in Idaho Falls. For frequent updates on new available merchandise, sales and promotions for the home store, follow it on Twitter at: Twitter.com/DEHIdahoFalls.
About DownEast Basics
DownEast Basics http://www.downeastbasics.com offers high-design looks on a bargain basement budget for today's cost-conscious yet fashionable consumer. The DownEast Basics clothing line includes cute tops and smart layering pieces to enhance women's wardrobes. In addition to its men's and girls' lines, shoppers can embrace the American classic look with their own sense of style.
The fast-growing retailer operates nationally with its Basics line via its online store in addition to 42 locations throughout the West including in Utah, California, Idaho, Arizona and Washington.
Media Contact:
Kathy Cabrera
kcabrera at carabinerpr.com
770.569.8221
###