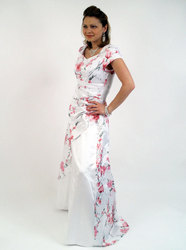 Provo, Utah (PRWEB) March 19, 2009
The economic indicators for February are in and the forecast for American families looks bleak- according to US News & World Report, February saw 651,000 jobs disappear while the foreclosure rate climbed 6%. To make things worse, over a trillion dollars of wealth was lost as stock markets continued to plummet.
Even families who still have jobs and can pay the mortgage are looking for ways to save money in case the recession gets worse. Along comes prom- that one night a teen girl looks forward to when extravagance has always been the order of the day. In these tough economic times, many teen girls are struggling to find a prom dress that fits the family budget. For conservative and religious teen girls looking for a modest prom dress, the search is even harder.
Over the past decade many companies have emerged to fill the need by religious conservatives for "modest" prom dresses; prom dresses with sleeves and a conservative length, back and neckline. But because of the relatively small demand for modest prom dresses they tend to be pricey, averaging around $300 for a nice prom gown.
Seeing the need for affordable modest prom dresses, Jennifer Loch founded Jen Clothing just in time for prom season in 2008. Jennifer says, "I'm the oldest of 5 children. When I was in high school my parents paid for my prom dress, but they gave me a small budget because with all of the kids, money was tight. So when I see the prices of some modest prom dresses, I'm amazed- I know a lot of families would never spend that much. This is why I want to make modest prom dresses more accessible for conservative teen girls."
Jen Clothing's '09 collection includes even more low-priced dresses. "You won't find a modest prom dress on JenClothing.com for over $150. In fact, most of our styles are priced under $90," Loch boasts. Combined with periodic sales and other promotions like free shipping, these formal dresses are a great way for conservative families to make a modest prom possible for their teenage daughter."
# # #