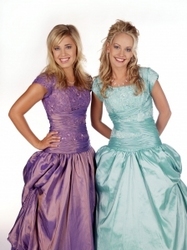 We're looking for young women to join our prom fashion team. They will help design next year's modest prom dress line, as well as gain valuable modeling, marketing, and event planning experience. If selected, they'll also get a free prom dress from our 2009 catalog
Orem, UT (PRWEB) March 13, 2008
Modest prom dresses web site Beautifully Modest and Allyse's Bridal is looking for young women to join their prom fashion team. Each team member will get a free prom dress from BeautifullyModest.com to wear to next year's prom.
The team will be chosen from applicants around the country, especially high school students who are interested in design, modeling, and fashion. Young women who are selected will attend a modeling workshop, as well as help design and model the newest line of modest prom dresses.
Team members will also get professional headshots taken which will be featured in the 2009 Allyse's/Beautifully Modest Prom Catalog. Being part of the Fashion Team can open new opportunities to learn more about modeling, designing and marketing.
"We're looking for young women to join our prom fashion team. They will help design next year's modest prom dress line, as well as gain valuable modeling, marketing, and event planning experience. If selected, they'll also get a free prom dress from our 2009 catalog," says Anne Smith, Beautifully Modest Business Unit Manager.
There will be one girl chosen from each state, except in Utah where additional team members will be selected. Utah is where the company is headquartered so there will be a Fashion Team Member selected from each high school in the state.
The team will help design the next line of modest prom dresses. They'll also participate in or organize fashion shows to model the dresses. As part of the team, girls will get to reach out to involve other girls who value modesty.
To apply, go to http://www.beautifullymodest.com/fashion-team, review the qualifications, and fill out the short application. Applications must be received before April 1st, 2008. Applicants will be interviewed by phone and the team will be notified by April 30, 2008.
About Allyse's Bridal/Beautifully Modest
Allyse's Bridal is located in Orem, Utah and carries fashionable and modest wedding dresses, formals, and prom dresses. In addition, stores carrying Allyse's designs are located around the country.
Beautifully Modest carries a full line of modest dresses for all occasions online at http://www.beautifullymodest.com. Our current line of modest prom dresses can be viewed on the site.
###