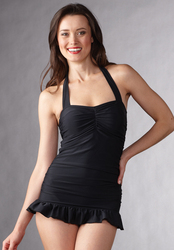 With our confidence-boosting 2010 swim line, women of all body types can look and feel amazing at the pool and on the beach
Salt Lake City, UT (Vocus) April 21, 2010
DownEast Basics (http://www.DownEastBasics.com ), a high-style, low-price fashion retailer, today announced that its fun, affordable and modest swimwear line is now available online and will be available at all retail store locations in the coming weeks.. The new summer 2010 swim line puts the power of creative styling into the hands of the shopper. Designs complement every body type, and mix-and-match options let shoppers select exactly which tops and bottoms, prints and colors they want.
Additionally, downeastbasics.com is offering a special "Buy 3 – SAVE $15" promotion. Buy any three mix-and-match swim pieces and save $15 on the entire order now through May 2. Enter promo code SWIM3 at checkout.
"With our confidence-boosting 2010 swim line, women of all body types can look and feel amazing at the pool and on the beach," said Andrea Updike, director of Product Development at DownEast Basics. "Our swimwear features gorgeous prints and colors, cuts to flatter every body type, and a return of some of our best-selling styles combined with brand new looks. With our 'buy three pieces, get $15 off' special, it's a great time to get ready for those warm summer months ahead."
Highlights of DownEast Basics' new swim 2010 line include:

Sunset Swim Dress – Embrace classic 1920s elegance with this long Hollywood-style swim top that features a classic halter neckline, gathering detail along the sides and ruffle trim; available in floral and black.
Santa Barbara Halter – Model the exuberance of the Santa Barbara lifestyle with this long halter tankini; features ruffle detail along neckline and gathering detail at chest; available in black & white and ocean & white.
Malibu Swim Skirt – Stay in high style in comfort at the beach by matching a top of your choice with this trendy upper thigh length swim skirt; ruffle along flounce and across front; wide waistband; available in black, bronze, ocean, hot pink and taffy stripe.
Waikiki Bikini – Vacation to the exotic Hawaiian islands on your mind? Keep that mindset with this fun, low-rise bikini bottom with flower detail on hip; available in black with white polka dots, spinach and taffy stripe.
Customers can shop all of DownEast's swim styles online at http://www.downeastbasics.com/swim.aspx. DownEast's blog also features a posting by Andrea Updike on how her favorite fabrics, prints and popular fashion elements influenced this year's swim line, as well as the best styles for every body type.] Read her swimsuit line posting here.
About DownEast Basics
DownEast Basics (http://www.downeastbasics.com) offers high-design looks on a bargain basement budget for today's cost-conscious yet fashionable consumer. The DownEast Basics clothing line includes cute tops and smart layering pieces to enhance women's wardrobes, as well as a fun and stylish girls' line. DownEast Basics shoppers can embrace the American classic look with their own sense of style.
In June 2009, DownEast Basics' founders were honored with an Ernst & Young Entrepreneur of the Year award in their region's retail and consumer products category. The company has approximately 550 employees.
The fast-growing retailer operates nationally with its Basics line via its online store in addition to 36 store locations throughout the West including in Utah, California, Idaho, Arizona, Washington and Nevada. DownEast also maintains a robust wholesale channel that reaches over 400 independent boutiques, local store chains and national retailers.
# # #