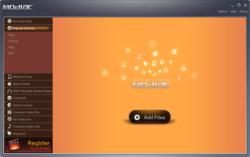 Modiac.com is launching their latest promotional campaign exclusively, while users will have chance to win iPad, iPod or Kindle.
Beijing, China (PRWEB) May 06, 2011
Modiac.com is launching their latest promotional campaign exclusively through the use of social media. Individuals surfing the web for free video converters will have the opportunity to win some of the hottest consoles, such as an iPad, iPod Touch or a Kindle.
The video converter campaign will run during May of 2011. For a chance to win the high-tech prizes, individuals must download the free version of Modiac's video converter. The next step requires participants to log- in to either Facebook or Twitter. Consumers must post either the product's screen shot, or the following link, free video converter,via their social media account. The third, and final easy step, requires users to email a copy of their social networking's post of the Modiac Video Converter screen shot or link to win-free(at)modiac(dot)com. It is that simple.
The Modiac Video Converter is capable of importing video files such as: MKV, MPEG, MP4, RM/RMVB, and FLV to name only a few. In addition, the video converter offered by Modiac works on audio files like OGG, MP3, and WMA. The product is especially proficient with DVD files.
Modiac has a reputation synonymous with quality and cutting edge technology that makes the most complicated file conversion tasks simple and user friendly. Founded in 2008, the company is fashioned in providing signature services such as: Modiac Blu-ray Ripper, Modiac MP4 Converter, Modiac iPad Converter and the coveted Modiac Video Converter.
The current promotion will end on July 1st 2011. The company will contact the prize winners directly. Interviews, electronic press kits, and media review samples of Modiac's reputable products are available to qualified media upon request.
###