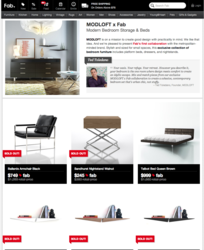 This collaboration between two design-obsessed companies reflects a disruptive change in the furniture industry. - Ted Toledano, Managing Partner of MODLOFT
Miami, FL (PRWEB) April 09, 2013
MODLOFT.com today announced its collaboration with Fab, the fastest growing ecommerce company on the planet, to unveil a new modern furniture collection for sale immediately on Fab.com. The MODLOFT x Fab collection represents a true collaboration, with both companies putting their finest design minds at work to assemble a line that is perfect for both the metropolitan and suburban customer alike.
"This collaboration between two design-obsessed companies reflects a disruptive change in the furniture industry. The idea of creating a furniture collection based on real-time consumer demand with fast and agile designers is the future of furniture retail. We believe this unique cooperation results in superior design concepts and accessible pricing to the modern shopper," said Ted Toledano, Managing Partner of MODLOFT.
The co-branded line features an exclusively designed collection of bedroom furniture that includes contemporary platform beds, dressers, and nightstands. Highlighted in this collection is the Vera Hybrid Dresser/Media Cabinet. This first-in-market contemporary bedroom dresser with built-in media compartments conceals audio/video components, and solves the issue of cluttered electronics in a bedroom while providing proper dresser storage for linens.
"MODLOFT and Fab working together is shifting the focus from an industry standby towards what the modern consumer wants. It's design, it's passion, and it's the future. It's It's contemporary furniture at an affordable price and it proves that two heads really are better than one. Mae West was right. Too much of a good thing is wonderful," said Bradford Shellhammer, Founder & Chief Design Officer of Fab.
To see the MODLOFT x Fab sales event, visit http://fab.com/sale/13879.
MODLOFT is one of the fastest growing contemporary furniture brands in the U.S., offered in hundreds of traditional retail locations, plus top online retail destinations and interior designers nationwide. MODLOFT takes immense pride in delivering an accessible brand of contemporary furniture for urban shoppers.
Fab is the fastest growing e-commerce company on the planet, helping 12 million members across 26 countries discover everyday design products at great prices, connect with the world's most exciting designers, and share their favorite design inspirations.
For additional information about MODLOFT, visit http://www.MODLOFT.com, or follow us at http://www.facebook.com/modloft or http://www.twitter.com/modloft.
For additional information about Fab, visit http://www.fab.com.