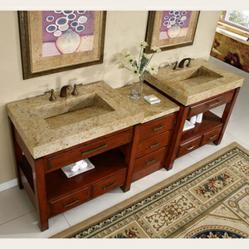 Far from being a simple out of the box, low-budget solution, modular bathroom vanities actually solve a lot of common problems in both large and small bathrooms.
(PRWEB) July 28, 2012
HomeThangs.com – the Home Improvement Super Store has made their goal to deliver the right product to the consumer, with that in mind, shopping and home design tips, as well as special product selections are being introduced.
"Modular" means out of the box, easy to match, often quite affordable. It comes in pieces that fit together, like building blocks. Available in all possible finishes, made of high quality materials, bathroom vanities with a modular design, such as Galatian Vanity DEC360-DS by Design Element for instance, are stylish, sophisticated, and quite practical.
HomeThangs.com provides a few reasons why modular bathroom vanities are worth considering.
1. Modular bathroom vanities are available in all Styles
First, to dispel a myth: not all modular furniture (nor all modular bathroom vanities) are modern. Modular only means that it comes in pieces that fit together. The pieces themselves can look like just about anything - from the simple building blocks of a modern design all the way to ornately carved, antique-inspired vanities, like Modular Antique Vanity HYP-0907 by Silkroad. Modular double vanities typically include two single-sink vanities plus a connecting storage cabinet (or "bridge") that assemble to form a single seamless unit, but don't always make something simply blocky - many of the most popular modular vanities are actually quite large and elaborately designed.
2. Modular Vanities Are Easier To Assemble In A Larger Bathroom
Modular bathroom vanities will be a good fit for very large master bathrooms, where a big ornate bathroom vanity is preferred, and to have one custom built can get much more expensive. Because modular double vanities come in three or more separate pieces, it's easy to move each piece through a standard doorway. They assemble seamlessly, creating the appearance of a massive double vanity without any of the hassle of having one moved in or the disruption (and stylistic limitation) of having one custom built inside the bathroom.
3. Multi-Piece Double Vanities Make For A More Flexible Bathroom Layout
Having a modular design - whether it's modern or vintage inspired - makes it easy to have matching furnishings spread throughout the bathroom. Instead of having a big, solid double vanity, the three pieces can be installed farther apart, to get exactly the look one is going for. Modular wall mounted vanities are even more flexible, as the height can be adjusted to each individual user.
4. A Modular Design Means For Flexible, Compact Storage In A Small Bathroom
Modular bathroom vanity sets aren't just for big bathrooms or for building double vanities, they work great in small bathrooms, too. They are compact and storage efficient, but can also be placed just about anywhere in a bathroom, and tend to have a much smaller footprint than any other kind of vanity.
5. Modular Bathroom Vanity Sets Are Highly Customizable
Modular bathroom vanities are more customizable than any other kind of bathroom vanity. An ornate, traditional bathroom vanity can be mixed and matched by rearranging vanities, bridge pieces, and storage cabinets to tailor the space to any own specific needs as well as the size of the room. For modern style, something like Blox Console by Xylem for example, allows to actually pick and choose the size and shape pieces that will go into creating the vanity. Here, it's a single wall mounted vanity with two console-style "wings," but with a very flexible modular set like the Blox Collection, the combinations are almost limitless.
Far from being a simple out of the box, low-budget solution, modular vanities actually solve a lot of common problems in both large and small bathrooms, and afford a whole lot of creativity and customization that one won't find in any other kind of pre-made bathroom vanity type.
HomeThangs.com is not only a home improvement superstore, it also provides expert design tips and a comprehensive shopping guide, taking the ideas from professional interior designers, and offering tips to the consumers on how to pick the products to best suit their needs.