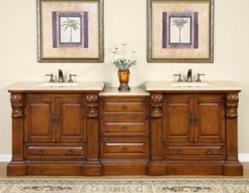 Sophisticated and elegant on the outside, but reasonably priced and easy to install, these vanities will last a lifetime – and take a lot of pain out of the remodel. Interior designers at HomeThangs gave a high rating to this product line from Silkroad
(PRWEB) July 04, 2012
HomeThangs.com has made their goal to deliver the right product to the consumer, with that in mind, shopping and home design tips, as well as special product selections are being introduced.
Having a really big bathroom presents a lot of design options and room for creativity, all the space one might need for the dream soaking tub and a big, roomy custom shower, but finding a vanity sized to match can be a little more complicated, especially if one's looking for an antique or vintage style and doesn't want to have a piece custom built.
HomeThangs has pronounced big modular vanities by Silkroad Exclusive - one of its bestselling brands – to be the perfect solution for large bathrooms, and here's why.
Many manufactured cabinets come in the 24″-48″ range, which can wind up looking a little lonely in a large master bath. But quality does not have to be sacrificed to get a pre-fab piece of bathroom furniture in the design wanted and, despite the size and impressive design, it can fit the budget.
This modular approach to larger vanities has several advantages:
1. Elegant, modular double vanities from Silkroad Exclusive like the HYP-0206-84 come with intricate carved detailing and are made out of select hardwood with real wood veneers. Designed to accommodate larger spaces, their vanity sets are available as wide as 95″ in sleek contemporary, modern, and vintage styles.
2. Silkroad Exclusive's largest vanities are designed in three parts – his, hers, and a matching storage cabinet. With a large vanity like the HYP0213, that means one gets three fully finished units: a vanity, a second mirrored version of the same vanity, and a slightly smaller linen cabinet that fits snugly in between them. All three pieces are finished with the same granite countertops and often fully installed sinks with pre-drilled faucet holes. Just add plumbing and a new lavatory faucet, and they're ready to go.
3. While all of the vanities look like a single unit when assembled, construction, shipping, and installation are made much easier (and less expensive) by breaking each vanity down into its component parts. Rather than having to have a solid vanity custom designed and installed to fit your bathroom, these units are small enough to fit easily through doorways and come with all the openings for the plumbing pre-drilled, so setup is a snap. The HYP-0907-95, for example, comes with integrated, pre-drilled ceramic sinks and has large cutouts in the back, so all that has to be done is slide the vanity pieces into place, and hook up the plumbing.
4. The real beauty of these vanities, though, is that while they can fit together into a single unit, they don't have to. A modern vanity that's (relatively) a little bit on the smaller side for a larger bathroom, like this HYP-0218-92, can easily be used as three separate units. This helps add aesthetically pleasing white space to a modern decor and allows to have a unified vanity setup without being constrained to a single continuous unit. That means they're also more accommodating of bathrooms with unconventional layouts, awkward spaces, or simply anywhere that a couple might need a little extra elbow room.
5. Though Silkroad Exclusive's vanities aren't technically customizable – they're all sold as-is with counter tops and sinks included (which certainly isn't a bad thing when it comes to the integrated travertine sinks on this HYP-0908N-77) – their modular design makes it easy to get exactly the setup needed. If more storage space is required - an extra center piece is a great option to either expand the existing vanity or supplement the storage elsewhere in the bathroom.
6. If remodeling more than one bathroom, in many cases one can buy parts of a larger set individually for a perfectly freestanding single sink vanity that can be used in another room. This HYP-0723-TL-53, for example is 1/3 of this larger HYP-0723-TL-84 set, sized perfectly for a smaller or guest bathroom to keep the style consistent throughout the home.
Sophisticated and elegant on the outside, but reasonably priced and easy to install, these vanities will last a lifetime – and take a lot of pain out of the remodel. Interior designers at HomeThangs.com gave a high rating to this product line frm Silkroad Exclusive.
HomeThangs.com is not only a home improvement superstore, it also provides expert design tips and a comprehensive shopping guide, taking the ideas from professional interior designers, and offering tips to the consumers on how to pick the products to best suit their needs.