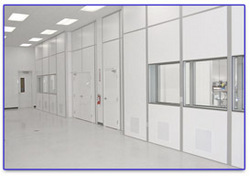 We offer architectural products, mechanical systems, and design-build solutions which allow for the creation and implementation of highly customized cleanrooms that many in the marketplace would never dream of bringing to a successful conclusion
Washington, DC (PRWEB) May 29, 2008
Allied Modular Building Systems, Inc. announced a major expansion into the medical device and pharmaceutical cleanroom markets this afternoon. When presenting the announcement, President Kevin Peithman made the following statement. "We have kept a steady market presence in this market segment over the past 10 years during our ongoing expansion as an organization. We are at point in our strategic development where we are committing additional resources and personnel in this high growth business sector. We believe Allied Modular Cleanrooms has a comparative market advantage in the industry due to our expertise in cleanrooms and biosafety laboratories and our operation of dual east coast and west coast manufacturing facilities. We plan on continuing to leverage this advantage throughout the United States and Mexico. "
Allied Modular Cleanrooms offers state of the art cleanroom application custom tailored to companies' work-flow process. They provide innovative solutions for both the public and private sectors to overcome seemingly insurmountable production issues.
A clean environment can maintain control over processes, improve productivity, and lower failure rates due to contamination while demonstrating a commitment to total quality assurance. Allied Modular Cleanrooms work with numerous medical device and pharmaceutical forms, providing solutions for ongoing production and productivity needs.
All cleanrooms meet Federal 209E Class 100 to Class 100,000 (ISO 5 to ISO 8) standards and are built with a pre-engineered flush type UL Classified architectural / electrical wall system to minimize particulate concentration and microbial contamination and assure an operationally sound enclosure. Wall panel options are virtually endless and are based around customer process applications.
"We offer architectural products, mechanical systems, and design-build solutions which allow for the creation and implementation of highly customized cleanrooms that many in the marketplace would never dream of bringing to a successful conclusion" states Craig Wiener, the Critical Environments Eastern Regional Manager, who is one the company's subject matter experts.
Allied Modular Cleanrooms serve the following industries or organizations:
Medical Device Industry
Pharmaceutical Industry
Biological Life Sciences
Aerospace Industry
U.S. Armed Forces
U.S. Executive Branch Agencies
A Small Sample of Applications and Solutions are provided for:
Stem Cell Research
Pharmaceutical Research, Compounding and Production (Includes USP 797)
Medical Device Research, Manufacturing, Assembly and Terminal Sterilization
Material Sciences/ Composites/ Injection Molding
Prosthetics and Implants
Bio Safety Laboratories and Organic Chemistry Labs
Allied Modular Building Systems, Inc. is a preferred supplier to the U.S. Armed Forces, National Aeronautics and Space Administration (NASA), Department of Energy (DOE), and Department of Homeland Security (DHS), as well as private industry, due to their groundbreaking research and development and scientific applications. Allied Modular possesses advanced technical expertise and engineering specifications, including Seismic Zone 4 earthquake qualifications deemed among the best in the industry. All buildings are capable of being permitted in the 50 United States and the District of Columbia. You can visit their website at http://www.alliedmodular.com and http://www.alliedmodularcleanrooms.com to learn more.
Allied Modular's corporate office and manufacturing facility is located in Orange, California and their east coast manufacturing facility in Nashville, Tennessee. They could be contacted Toll Free at (800) 962-3058 and faxed at (800) 558-6792.
###