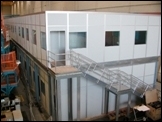 I was shocked at how quickly the new Team Center buildings went up
Detroit, MI (PRWEB) June 27, 2006
Allied Modular Building Systems, Inc. announced today that it has been awarded another contract to construct an additional Modular Employee Team Center for General Motors Corporation.
This Employee Team Center, as with previously constructed Team Centers, will be used by GM associates for team meetings, employee down-time and breaks and will be completed in early July 2006 for use at the General Motors plant.
The interior modular building that will house the Team Center is the latest in a series of special order Team Centers that Allied Modular has developed and provided for GM. During the holiday shutdown immediately after Christmas in December 2003, Allied Modular manufactured, delivered and installed 35 such Team Centers for GM. Manufactured over the preceding 60 days, the modular buildings were delivered in phases over the holiday break, and the rooms were ready for the returning associates in late January 2004.
"I was shocked at how quickly the new Team Center buildings went up," an enthusiastic union installer working under Allied Modular's supervision said during installation.
Scott Redford, Allied Modular's Regional Sales Manager - Midwest Territory stated, "General Motors is the world's largest automaker and has been the global industry sales leader for 75 years. The company employs about 327,000 associates around the world and has been a long time customer of Allied Modular Building Systems. I was graced with the opportunity to visit a GM Plant in 2004. I witnessed firsthand the excitement the newly constructed Team Centers created and I am equally confident that this new addition will provide a tremendous benefit to the plant."
About Allied Modular Building Systems
Since 1989, Allied Modular Building Systems, Inc. has secured its reputation as the leader in the modular industry with products manufactured and distributed nationally that provide cost effective, time saving, versatile alternatives to standard stick construction. All products are 100% modular and can be relocated and reassembled. Product lines include modular in-plant offices, interior and exterior buildings, Cleanrooms, two story offices, guard houses, mezzanines, vision towers, machine enclosures, full height partitions, smoking shelters, lunchrooms, executive offices, prefabricated offices, modular buildings, Guard houses, guard booths, security enclosures, partitions, and nearly innumerable custom applications. Tours of our 50,000 square foot state-of-the-art facility and showroom are welcome. Contact Allied Modular at 800-959-0810 or visit our website at http://www.alliedmodular.com
# # #