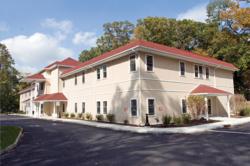 Spring Valley, NY (PRWEB) April 22, 2013
Nadler Modular and Mark Line Industries are pleased to announce their recent receipt of First Place for Permanent Education Facilities over 10,000 SFT at the Awards of Distinction, presented by the Modular Building Institute (MBI) in Scottsdale, AZ. The 30th Annual World of Modular Convention was held to present awards for this year's best modular buildings and featured 550 delegates from 15 countries.
The award was received for the two firms' work on Chabad of Monsey, a private girls' modular school built in Airmont, New York. MBI wrote that "…with the site-built roof façade, entry porches, and stucco siding, the 25,000 square foot school blends seamlessly into a wooded lot surrounded by private traditional homes."
The judging was conducted by an esteemed panel of construction and design industry journalists, academics, and sustainable construction professionals.
Zalman Goldstein, a trustee at Lubavitch of Monsey said, "Had we not explored the use of a modular school, the project probably never would have taken off because we didn't have the money for it, and the length of time required to put up a traditional building." By utilizing a sustainable modular construction system, Nadler Modular and the modular fabricator Mark Line Industries were able to deliver a multi-story, permanent school facility much faster than a conventional construction project. Building with modern methods of construction (MMC), material waste is reduced and the schedule is accelerated, delivering a better value to the end client.
About Nadler Modular. For over 30 years, Nadler Modular has quickly and efficiently solved space problems for homebuilders, construction managers, government entities, schools, and the general industry by providing them with modular buildings that are spacious and attractive. Nadler is a 4-time winner of the Modular Building Institute's Awards of Excellence and is GSA approved. As a result of our achievements, Nadler has been placed on the INC 5000 List of Fastest Growing Companies in the U.S..
We pride ourselves in the fact that over 80% of our clients are repeat accounts. This indicates the level of service we have provided to clients ranging from private sector clients such as Skanska and Turner Construction, to federal clients including the Port Authority of NY and West Point Military Academy.
Please visit Nadler's permanent modular girls' school building on our website at http://www.nadlermodular.com/permanent/permanent-schools/
About Mark Line Industries. Since 1968, Mark Line Industries has been one of the nation's foremost fabricators of custom commercial modular space and prefabricated building components.
With over 300,000 SFT of modern production space located in Bristol, Indiana, Ephrata, Pennsylvania, and Roxboro, North Carolina, Mark Line serves a diverse clientele both domestically and internationally. Learn more at http://www.marklineindustries.com