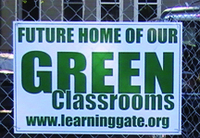 The architectural options are unlimited including multi-story, site-built pre-engineered buildings such as large gymnasiums, and even buildings with lead-lined walls for CT/MRI clinics. We just finished a 5000 square foot CT/MRI building with a 5
Winter Garden, FL (PRWEB) September 25, 2008
School children and teachers at the Learning Gate Community School in Lutz, Florida can begin enjoying the first platinum-level green certified modular-built school in the U.S., thanks in part to Modular Building Systems International (MBSI). The school is receiving national recognition and has received awards, donations, grants, and sponsorship for providing a healthy learning environment for children and teachers. Using buildings supplied by MBSI, Learning Gate has met platinum-level green building certification as defined by U.S Green Building Council's Leadership in Energy and Environmental Design (LEED) standards.
MBSI supplied the nine affordable green modular classrooms totaling about 8,000 square feet. Platinum level LEED certification was obtained through the U.S. Green Building Council using a LEED Accredited Professional. "These are not portable classrooms, this is a school that was constructed in a controlled factory environment and then installed and finished on-site. The process enables you to perform site work while the buildings are constructed, reducing build time. The factory controlled environment results in higher quality than a site-built school." said Patricia Berk, president of MBSI.
The buildings consist of recycled steel perimeter frames, GP sustainable forest initiative lumber, recycled metal roof panels, soy foam insulation, low-e windows and a sophisticated Munter HVAC system which provides 100% dry fresh outside air.
Learning Gate is striving for a Net Zero Energy building using 25KW solar panels integrated as walkway coverings and excess energy will be sold back to TECO in the summer. Cisterns are used to capture rainwater which irrigates the organic gardens, and a "living machine" is being installed which processes wastewater effluent through living plants.
"Learning Gate is a living lab for students and the community. MBSI is very proud to be the building provider for this forward thinking school which sets a new standard for our children's learning environment," said Berk.
MBSI is a licensed General Contractor that specializes in commercial modular buildings and offices throughout Florida. Areas of expertise include charter, public, and private schools, medical buildings such as CT/MRI centers, x-ray storage facilities, and administration buildings, facilities for churches and places of worship, as well as temporary construction offices. "The architectural options are unlimited including multi-story, site-built pre-engineered buildings such as large gymnasiums, and even buildings with lead-lined walls for CT/MRI clinics. We just finished a 5000 square foot CT/MRI building with a 5" slab and lead-lined walls for Shands Medical Center in approximately 4 months. The results were incredible," says Berk.
MBSI is investing more than a million dollars in healthy buildings for its lease fleet in order to minimize environmental impact and health issues for clients. MBSI also offers traditional and green building practices for site-built projects. A free Modular Building Newsletter highlighting the green school, medical building project, and other modular projects is available at the MBSI website. For more information, please visit http://www.mbsillc.com and Learning Gate School.
###