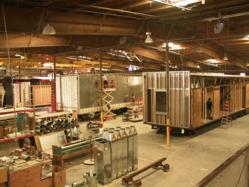 The U.T. System is an experienced user of modular built facilities and they recognize the value and experience that Ramtech brings to both temporary and permanent building projects.
Mansfield, TX (PRWEB) May 21, 2013
Commercial modular construction firm Ramtech Building Systems of Mansfield, TX has announced that the company has secured a contract with the University of Texas System to provide a new 9,480 square foot modular building on a 36-month lease to aid in expanding the University's charter school program. The new facility was procured through the Texas BuyBoard purchasing cooperative and will accommodate 3rd through 6th grade students by providing five additional classrooms. In addition to the classroom space, the modular school building also features a large conference room, seven private offices, and a reception area. The exterior of the building will utilize a 26-gauge metal R-panel siding along with an aluminum landing and ramp assembly at the main entrance, and a wood landing and ramp connecting the secondary entrance with the existing facility. Ramtech will begin the manufacturing phase of the project during the third week of June, and expects to have the building installed and ready for occupancy prior to the August start of the 2013-2014 school year.
This is Ramtech's sixth modular building project for the University of Texas, one of the fastest growing college systems in the Southwest. The previous modular construction projects have included installing the company's industry standard portable classrooms at two of the University's nine campuses, along with providing standard and custom multiple classroom buildings and administrative and office space at four of the other locations. According to Gary White, Ramtech's vice-president of sales and estimating, "The U.T. System is an experienced user of modular built facilities and they recognize the value and experience that Ramtech brings to both temporary and permanent building projects." In addition to the University of Texas projects, Ramtech has also provided relocatable and permanent modular buildings to other notable colleges including Texas A&M, the University of Arkansas, Texas Christian University, Texas Tech, the University of North Texas, and several community colleges districts including Dallas, El Paso, and Tarrant County.
About Ramtech Building Systems
Since 1982, Ramtech Building Systems has been providing innovative modular buildings for government agencies, healthcare providers, Fortune 500 companies, and educational institutions throughout the Southern United States. As a design-build construction company, Ramtech offers full in-house design, a manufacturer direct product, and complete site construction services all within a single-source solution. The University of Texas project will be designed and manufactured at Ramtech's Mansfield, TX headquarters, part of a 20-acre development located in the southern part of the Dallas-Fort Worth Metroplex. Structured as a vertically integrated design-build construction company, Ramtech provides space planning, design services, manufacturing, site construction and finish-out on every project they produce. The company maintains a consistent workforce of production workers and supervisory personnel with an average of 13 years experience, many with tenures over 20 years. This experience, coupled with Ramtech's approach to modular manufacturing and construction, allows for greater control at each step in the building process resulting in significant time and money savings for their clients. By emphasizing a value engineering approach, Ramtech has successfully completed over 3,000 diverse projects of all sizes. For more information, visit the company's website at ramtechmodular.com.