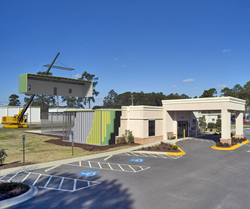 Once our no cost project plans are presented to the district, the design is already 20-25% complete so they can establish a qualified budget and decide if Ramtech's design-build approach will meet their quality expectations and financial requirements.
Mnasfield, TX (PRWEB) April 22, 2014
Commercial modular building firm Ramtech Building Systems of Mansfield, TX has announced that the company will begin expanding their marketing of the company's highly efficient design-build project delivery system to Texas Independent School Districts. Developed as a single-source, vertically integrated permanent modular construction method, Ramtech's approach to design-build allows for new modular school facilities to be developed and constructed faster and with less costs than projects which use variations of the construction manager or design-bid-build type approaches. Many public school districts and architectural firms that specialize in school construction don't believe that design-build can be a superior method of contracting for school construction projects. Their arguments often center around concerns that they won't know the final cost of the project until it is completed, or that the design-build team will lower the quality of construction in order to keep from going over budget. Ramtech alleviates these misperceptions by providing four essential elements before a school district even has to make a decision on whether to use design-build. As part of the company's No-Cost Project Planning Program, Ramtech will provide to the school district:

Preliminary building floor plans and site plans
An architectural rendering of the school facility
Outline construction specifications
A project feasibility study and cost estimate with additional options for site improvements and upgrades to interior and exterior finishes
According to Gary White, Ramtech's vice-president of sales, "Once our no cost project plans are presented to the school district, the design is already 20-25% complete so they can confidently establish a qualified budget and decide whether Ramtech's design-build delivery approach will provide a facility that meets their quality expectations and financial requirements. We've been using this approach for over ten years, and not one time have we ever exceeded the feasibility budget established as a result of our free project planning." When Ramtech is selected as the design-build firm, the company typically proposes a two-step design-build contract to the customer. The first step provides for completing the civil and site design, soils analysis testing, and building design to the 100% level. This allows Ramtech to provide the school district with a fixed, stipulated sum price for the project before construction even begins. Ramtech's design team can act as the designer of record, or if the District already has an Architect relationship, perform in a design-assist role and work collaboratively during the design phase of a project which incorporates Ramtech's building system.
Once the school district accepts the stipulated sum price and approves the 100% design package, the construction (second) phase of the project can begin. Ramtech uses a permanent modular construction approach to prepare the building site with a concrete foundation while simultaneously fabricating the modular buildings at the company's 85,000 square foot manufacturing plant located in Mansfield, TX in the southern part of the Dallas-Fort Worth Metroplex. Then, as soon as the site activities are nearing completion the building modules are transported to the site, set in place, and weathered-in in a matter of days. By concurrently performing the site preparation and manufacturing activities, the overall construction time is reduced by 30-50% which minimizes the possibility of onsite injuries and weather related materials damage while greatly reducing the amount of site disruptions. It also saves money by more effectively controlling the cost of labor, reducing overhead expenses, utilizing direct purchasing of materials, and minimizing the owner requested change orders since the designer and constructor are one in the same. Ramtech will begin promoting the design-build program with a series of enhanced marketing activities beginning in May 2014.