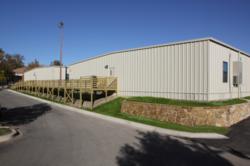 KIPP was very pleased with the project that we did for them at their San Antonio, Texas campus so they encouraged the architectural firm that they selected to work with us on the modular building designs for this job also
Mansfield, TX (PRWEB) January 12, 2012
Ramtech Building Systems, Mansfield, TX has announced that the company has secured a new contract for the design, fabrication, and construction of five modular buildings for KIPP Delta Public Schools of Helena, Arkansas. The project will provide for three 8,100 square foot eight-classroom buildings, a 3,600 square foot food preparation and cafeteria facility, and a 3,600 square foot administrative office complex. The modular buildings will be delivered and installed prior to the start of the 2012-2013 academic school year at their new campus location in Blytheville, Arkansas. This will be Ramtech's second modular school construction project for KIPP, one of the nation's largest charter school providers serving more than 32,000 students at 109 schools in 20 states and the District of Columbia. The new campus location is part of a four-acre development designed by Stuck & Associates Architects of Jonesboro, Arkansas. Ramtech will provide the modular buildings as a subcontractor to Rowan Construction Services of Marianna, Arkansas the general contractor selected for the project.
According to Gary White, Ramtech's vice president of sales and estimating, "KIPP was very pleased with the project that we did for them at their San Antonio, Texas campus so they encouraged the architectural firm that they selected to work with us on the modular building designs for this job also." The announcement for the KIPP project coincides with Ramtech's preparation for the February 1, 2012 launch of their new program to promote the benefits of using modular construction for charter schools. The initiative will provide an opportunity for educators to learn about the recent innovations and practical applications in the use of temporary and permanent modular buildings when developing new schools or additions to existing campuses. To aid in this effort, Ramtech has installed a fully-finished six-classroom modular floor plan facility available for tours and viewing at their Mansfield headquarters.
The charter school movement has experienced large growth in recent years with more than 500 new charter schools opened in the 2011-2012 school year alone. According to the National Alliance for Public Charter Schools, nearly 2 million students nationwide are now enrolled in charter schools compared to 46 million students in traditional K-12 public schools. KIPP, which stands for the Knowledge Is Power Program, is a national network of free, open-enrollment, college-preparatory public schools with a track record of preparing students in underserved communities for success in college and in life. Nationally, more than 95 percent of KIPP middle school students have graduated high school, and more than 85 percent of KIPP alumni have gone on to college. The new campus will be known as the Blytheville College Preparatory School and will be KIPP's second location in their Arkansas Delta Region. The development has been planned in two phases with the first phase providing facilities for elementary and middle school students and a future expansion designated for a new high school.
All of the modular buildings for the KIPP charter school project will be built at Ramtech's Mansfield, TX manufacturing facility, part of a 20 acre development located in the southern part of the Dallas-Fort Worth Metroplex. The company has convenient access to the major transportation arteries that serve cities throughout Texas and the Southwest. Structured as a vertically integrated design-build construction company, Ramtech provides space planning, design services, manufacturing, site construction and finish-out on every project they produce. The company maintains a consistent workforce of production workers and supervisory personnel with an average of 13 years experience, many with tenures over 20 years. This experience, coupled with Ramtech's approach to modular manufacturing and construction, allows for greater control at each step in the building process resulting in significant time and money savings for their clients.
About Ramtech Building Systems
Since 1982 Mansfield, Texas-based Ramtech Building Systems has been providing innovative modular buildings for government agencies, healthcare providers, Fortune 500 companies, and educational institutions throughout the Southern United States. As a design-build construction company, Ramtech offers full in-house design, a manufacturer direct product, and complete site construction services all within a single-source solution. By emphasizing a value engineering approach, Ramtech has successfully completed over 2,500 prefabricated buildings for diverse projects of all sizes. For more information, visit the company's website at http://www.ramtechgroup.com.
###