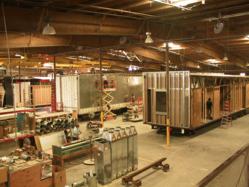 Our convenient location coupled with the addition of these standard floor plan products makes us ideally suited to quickly service the facility needs of operators in areas like the Eagle Ford
Mansfield, TX (PRWEB) January 27, 2012
With the explosive growth in the demand for quarters and camps for the oil and gas industry, Ramtech Building Systems, Mansfield, TX has announced that the company is expanding their existing line of product offerings to provide value engineered modular buildings that will meet the rigors of working in remote, severe, or unfriendly drilling and mining locations while providing for the features and amenities demanded in a very competitive labor environment. Additional standard and custom floor plan designs for small and large man camps, workforce and oilfield housing, offices, sleepers, tool pushers, dining and mess halls, recreation facilities, infirmaries, wash cars and laundries have been developed to meet the needs of both the end-user operators and turnkey logistics and property management groups involved in the rapidly expanding areas for oil and gas drilling around the continental United States. Ramtech is currently in negotiations with several potential clients for facilities designated for locations in the Bakken Oil Shale Formation in North Dakota and the Eagle Ford Shale Gas Play in South Texas, the sixth largest domestic oil discovery in U.S. History.
Ramtech's continual investment and focus on product development for the oil and gas industry is reflected in the advances incorporated into their engineered skid mount and wheeled chassis product designs that all utilize a robust construction approach with top-rated materials and attractive finishes. Skid mount products like the company's four to six man sleepers, mess halls, tool pushers, and wash cars/laundries are built to be routinely relocated by placing the buildings directly on to flat ground or prepared surfaces and moving them in the same way as the other equipment that supports the drill rig are. Chassis mounted designs like Ramtech's 100 and 250 man camps can easily be scaled to accommodate any size workforce with high-quality facilities providing practical worker accommodations for living quarters, mess halls, recreation areas, offices, infirmaries, and laundries. Targeted at both short and long-term use requirements, all of the prefabricated buildings utilize a single point of connection to easily hook up to any accessible public or temporary utility source. They are also designed to be self-contained for immediate field deployment through the use of factory-furnished appliances, furniture, utensils, and even linens. "Ramtech has a long track record of providing diverse facilities for different kinds of energy developers," according to Gary White, vice-president of sales and estimating for the company, "and our convenient location coupled with the addition of these standard floor plan products makes us ideally suited to quickly service the facility needs of operators in areas like the Eagle Ford."
All of the new quarters and camps and other oilfield facility projects will be built at Ramtech's Mansfield, TX manufacturing facility, part of a 20 acre development located in the southern part of the Dallas-Fort Worth Metroplex. The company has convenient access to the major transportation arteries that serve cities throughout Texas and the Southwest. Structured as a vertically integrated design-build construction company, Ramtech provides space planning, design services, manufacturing, site construction and finish-out on every project they produce. The company maintains a consistent workforce of production workers and supervisory personnel with an average of 13 years experience, many with tenures over 20 years. This experience, coupled with Ramtech's approach to modular manufacturing and construction, allows for greater control at each step in the building process resulting in significant time and money savings for their clients.
About Ramtech Building Systems
Since 1982 Mansfield, Texas-based Ramtech Building Systems has been providing innovative modular buildings for Fortune 500 and commercial companies, government agencies, healthcare providers, and educational institutions throughout the Southern United States. As a design-build construction company, Ramtech offers full in-house design, a manufacturer direct product, and complete site construction services all within a single-source solution. By always emphasizing a value engineering approach to every job, Ramtech has successfully completed over 2,500 prefabricated buildings for temporary and permanent projects of all sizes. For more information, visit the company's website at http://www.ramtechgroup.com.
###