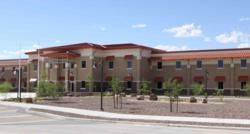 We want to fully leverage the capabilities of our ABS process by having architects integrate the system into their design approach
Mansfield, TX (PRWEB) May 23, 2012
Design-build commercial modular construction firm Ramtech Building Systems has announced a new program aimed at promoting the company's innovative Accelerated Building System (ABS) permanent modular building approach to architectural firms and other design professionals. The new initiative is part of Ramtech's long-term emphasis on developing teaming and partnering arrangements to develop large scale public sector and permanent building projects utilizing the cost effective and time saving ABS method. Targeted at education, healthcare, and other commercial building applications, the program will focus on developing key relationships with architects and other designers who are looking for a partner that can provide design assist expertise with the goals of reducing costs and facilitating a fast track project implementation through the use of Ramtech's ABS modular construction process.
By focusing on the practical applications and the potential uses of the ABS process by itself or in combination with other site construction alternatives, Ramtech will be able to provide architects and other building design professionals with additional versatility in their project design approaches. To facilitate the initiative, the program will consist of invitations to privately scheduled meetings at Ramtech's 20 acre campus headquarters located just south of the Dallas-Fort Worth Metroplex in Mansfield, TX. Design professionals will be able to meet with and explore Ramtech's capabilities through 'lunch and learn' sessions with the company's senior management, technical sales, engineering, and project management personnel. Tours of the company's manufacturing operation will also be part of the program, which is planned to be operational by July, 2012.
Finding the right construction approach to assist with situations like an aggressive timetable to satisfy an owner's urgent need or the ability to maintain a desired quality level while cutting costs within strict budget limitations, brings challenges that most traditional construction techniques have a difficult time meeting. While there is no perfect building system or contractual approach, Ramtech's Accelerated Building System method can help architects meet these demands while also providing for additional versatility in their project design approaches. By providing services such as design assist, Ramtech can act as more than just a modular building supplier or general contractor. According to Gary White, Ramtech's vice-president of sales and estimating, "Ramtech has been performing design-build construction projects for over 30 years. In that time there have been occasions where we've worked with architects on specific projects, but we now want to fully leverage the capabilities of our ABS process by having them integrate the system into their design approach."
About Ramtech Building Systems
Located on 20 acres in the southern part of the Dallas-Fort Worth Metroplex, Ramtech Building Systems has convenient access to the major transportation arteries that serve cities throughout the Southwest. Structured as a vertically integrated design-build construction company, Ramtech provides space planning, design services, manufacturing, site construction and finish-out on every project they produce. The company maintains a consistent workforce of production workers and supervisory personnel with an average of 13 years experience, many with tenures over 20 years. This experience, coupled with Ramtech's approach to modular manufacturing and construction, allows for greater control at each step in the building process resulting in significant time and money savings for their clients. By emphasizing a value engineering approach, Ramtech has successfully completed over 3,000 prefabricated buildings for diverse projects of all sizes. For more information, visit the company's website at http://www.ramtechgroup.com.