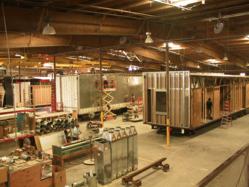 We have built a great working relationship with Hensel Phelps from our previous projects together, and they recognize our ability to generate the speed and cost savings that modular construction can provide on a project of this size
Mansfield, TX (PRWEB) July 09, 2012
Ramtech Building Systems of Mansfield, Texas has announced that the company has secured a $9.7 million contract to provide the modular buildings for the fifth and final phase for the MILCON Unaccompanied Enlisted Personnel Housing (UEPH) Advanced Individual Training (AIT) Barracks to be used by the U.S. Army at Fort Sam Houston in San Antonio, Texas. The permanent modular construction project is part of a multiple task order under an Indefinite Delivery Indefinite Quantity (IDIQ) contract previously awarded to the Southwest Division of Hensel Phelps Construction Co. in Austin, Texas. The Jacobs Engineering Group is under contract for architectural and engineering services for the project, while Ramtech will act as a strategic subcontractor by fabricating and installing the 152 individual modular floor sections that will be assembled to create the four-story, 272 room structure. Totaling 116,480 square feet, the manufacturing phase is slated to begin in September with a scheduled completion of December 2013.
Faced with the challenge of acquiring permanent facilities "faster, better, cheaper, and greener," in 2005 the Army Corps of Engineers embarked on a master planning program to change the way it executed MILCON and BCA programs. Frustrated at not getting quality facilities in the timeframe it needed them, the Corps established a continuous building program that emphasized the standardization of facilities and processes while expanding the use of prefabricated buildings through the use of permanent modular construction. Ramtech has worked as a subcontractor to Hensel Phelps on several previous high-profile projects, including the construction and fabrication of 24 single and two-story administrative modules for the U.S. Army at Fort Bliss in El Paso, Texas and the manufacturing and construction of temporary modular barracks facilities for the Army's 4th infantry division at Fort Hood in Killeen, Texas. According to Gary White, Ramtech's vice president sales and estimating, "we have built a great working relationship with Hensel Phelps from our previous projects together, and they recognize our ability to generate the speed and cost savings that modular construction can provide on a project of this size."
Because the AIT barracks facility houses U.S. combat troops, the structure will be built to meet the Army's rigid Anti-Terrorism Force Protection (AT/FP) construction standards and progressive collapse requirements for buildings three stories and above. All of the modular floor sections are designed and built as a six-sided unitized box acting as a rigid cube when stacked together with the other sections. The permanent modular building will also meet the requirements of LEED Silver Certification by including waterless urinals, energy star roofing material, recycling of waste materials to achieve a 50% diversion of waste normally sent to land-fills, and utilization of construction materials with a 20% recycled content. Heating and cooling will be provided through a chilled water assist hydronic heat pump system with each unit serving one dorm room. Ramtech will be responsible for the plumbing and electrical connections as well as some of the interior finish-out including the ceramic tile installation. In addition to the sleeping areas, the building will also house a computer learning center, training area, and laundry facilities.
About Ramtech Building Systems
Since 1982 Mansfield, Texas-based Ramtech Building Systems has been providing innovative permanent modular buildings for government agencies, healthcare providers, Fortune 500 companies, and educational institutions throughout the Southern United States. As a design-build construction company, Ramtech offers full in-house design, a manufacturer direct product, and complete site construction services all within a single-source solution. By emphasizing a value engineering approach, Ramtech has successfully completed over 3,000 prefabricated buildings for diverse projects of all sizes. For more information, visit the company's website at http://www.ramtechgroup.com.