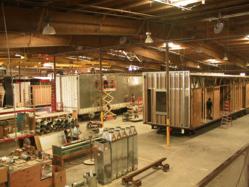 Mansfield, TX (PRWEB) July 30, 2012
Ramtech Building Systems of Mansfield, Texas celebrated a major milestone in the company's 30 year history by manufacturing its 16,000th modular building section during the month of July 2012. Founded in 1982 as a leasing company that purchased its modular buildings from regional wholesale manufacturers, Ramtech became an integrated manufacturer by opening its own manufacturing facility at its corporate headquarters in 1985. Because of the company's frustrations in getting quality buildings designed and constructed the way they needed them, Ramtech's primary manufacturing goal right from the start was to develop prefabricated buildings that met the unique needs their customers. Since that time, the company has become an industry leader in providing complete design-build construction services using modular buildings for both temporary and permanent applications for the commercial, educational, healthcare, and government industries.
Ramtech's first major success was in redesigning the approach used for portable classrooms by Texas public school districts. At the time these independent school districts were contracting with various construction companies to site build portable classrooms in one piece at the intended location. When the schools then needed to relocate the buildings, they were forced to contract with a house mover in an expensive process that in many cases severely limited the distances that the facilities could be moved to because of the building width. To overcome these limitations Ramtech saw an opportunity to design and develop a portable classroom building that could be built at a lower cost offsite, while also providing for local relocation as a one piece unit or moved long distances in two sections. In 1985 while working with the Arlington Texas Independent School District on the concept, the District's Board voted to give the company an order for two high quality, two section, proto-type portable classroom buildings. Twenty-seven years after this first order, A.I.S.D. continues to purchase their portable modular classroom buildings from Ramtech.
Now considered the industry standard for all types of public, private, and faith-based schools throughout the Southwest, the company's portable double-classroom buildings are available from inventory and can be bought or leased allowing schools the flexibility to relocate, sell, or return the buildings when the additional space is no longer required. Costing 20 to 30% less than a site built classroom but constructed to the same current commercial model building codes, Ramtech's large inventory of new and lease buildings are available for year-round installation in as little as two to three weeks within Texas, Oklahoma, Arkansas, Louisiana, and New Mexico. The growth in the use of temporary and portable buildings for educational use has allowed Ramtech to design and develop other modular school buildings for larger facilities from 4 to 16 classrooms all under one roof. As with Ramtech's portable classroom buildings, these facilities are available for purchase or lease through network co-ops including the Texas Association of School Board's BuyBoard marketplace, the Houston Galveston Area Council HGACBuy program, the Texas Interlocal Purchasing System, and government programs like GSA Advantage and the Texas Multiple Award Schedule (TXMAS) program.
About Ramtech Building Systems
Since 1982 Mansfield, Texas-based Ramtech Building Systems has been providing innovative modular buildings for government agencies, healthcare providers, Fortune 500 companies, and educational institutions throughout the Southern United States. As a design-build construction company, Ramtech offers full in-house design, a manufacturer direct product, and complete site construction services all within a single-source solution. By emphasizing a value engineering approach, Ramtech has successfully completed over 2,500 prefabricated buildings for diverse projects of all sizes. For more information, visit the company's website at http://www.ramtechgroup.com.