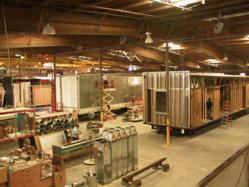 Hidalgo recognized that they could not use simple modular buildings for a project like this, and that as a design-build construction company Ramtech could provide all of the building services they were looking for
Mansfield, TX (PRWEB) September 27, 2012
Ramtech Building Systems of Mansfield, Texas has announced that the company has secured a new contract to provide three modular buildings to Hidalgo County, Texas to be used as interim facilities during the county's renovation of their existing courtroom structures. Two of the buildings will provide a total of five courtrooms for criminal, civil, and family and child protective services cases, while the third building will be used for administrative space for the district clerk. Manufacturing of the building sections will begin during the month of September, with a scheduled completion date for the modular construction project of November 15, 2012. To facilitate the procurement process for the time sensitive project, all of the buildings will be purchased through the Texas Buyboard network purchasing cooperative.
Located in the heart of downtown Edinburg, Texas, Hidalgo County's decision to renovate their existing courthouse building brought a series of challenges as to how they could secure adequate interim space for their day to day operations during the construction. Because the court's sally port and holding cell facilities for the prisoners are also at this location, a perimeter security system would have been extremely expensive and time consuming to replicate at a different location. So to minimize the expense and potential for costly delays, Hidalgo County made the decision to install over 14,000 square feet of modular buildings in a parking lot adjacent to the existing courthouse. As this is the first time that the county has used modular buildings, Ramtech was instrumental in helping to design and engineer the project. According to Gary White, Ramtech's vice president of sales and estimating, "Hidalgo recognized that they could not use simple modular buildings for a project like this and saw that as a design-build construction company, Ramtech could provide all of the building services they were looking for."
The renovation is expected to take 18-24 months and will require replacement space for courtrooms, jury rooms, and conference areas for the attorneys and their clients. Also needed are offices for the judges, court staff and reporters, and foyers for security at the public entrances. The interior finishes for each facility will utilize vinyl covered sheetrock, suspended ceilings, and a combination of carpet and tile flooring. Heating and cooling will be accommodated through the use of properly zoned attic-mounted split systems to maximize energy efficiency. The primary exterior finishes will incorporate an earth tone Sherwin-Williams UltraCrete synthetic stucco with a 44-inch metal fascia, providing the buildings with the look and feel of permanent facilities while still capable of being relocated.
About Ramtech Building Systems
As the largest supplier of commercial modular buildings in Texas, Ramtech has over 30 years of experience while successfully completing over 3000 projects. All of the modular buildings for the Hidalgo County project will be built at Ramtech's Mansfield, TX manufacturing facility, part of a 20 acre development located in the southern part of the Dallas-Fort Worth Metroplex. The company has convenient access to the major transportation arteries that serve cities throughout Texas and the Southwest. Structured as a vertically integrated design-build construction company, Ramtech provides space planning, design services, manufacturing, site construction and finish-out on every project they produce. Many of Ramtech's modular buildings can be purchased through several purchasing cooperatives including the Texas BuyBoard and the Houston-Galveston Area Council HGACBuy programs. More information on Ramtech's product offerings and work with government agencies can be found at their government website http://www.ramtechgsa.com.