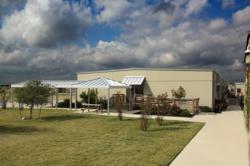 As a full service design-build construction company, Ramtech can provide at no cost a first-hand look at what can be done using temporary and permanent modular buildings
Mansfield, TX (PRWEB) October 01, 2012
Ramtech Building Systems of Mansfield, Texas has announced that the company has introduced a new no cost project planning program for private and faith-based schools who are considering using modular construction for their temporary and permanent school construction needs. The program will provide at no cost to the school, prior to entering into a contract with Ramtech, a floor plan of the proposed facility, a color exterior rendering of the building, and a detailed budget for the job. Ramtech will begin promoting this innovative opportunity through a new promotional campaign beginning in October 2012. Designed to showcase the benefits of using modular school construction for expanding or adding to existing school campuses, the campaign will also focus on highlighting Ramtech's ability to provide both traditional modular buildings for short and long-term use as well as the company's innovative Accelerated Building System solution for permanent building construction. In addition to the new promotional materials that have been developed, the program will also invite school officials to privately scheduled meetings where they can meet with and explore Ramtech's capabilities through 'lunch and learn' sessions with the company's technical sales, engineering, and project management personnel. Tours of the company's manufacturing operation will also be part of the program.
Because most public schools are currently challenged by a lack of funding and inflexible regulations, private and faith-based schools are growing rapidly. However one of the biggest challenges these educators have is the cost of design and construction for new schools or the expansion of their existing campuses. More and more the answer for many schools lies in the use of modular construction. By starting with Ramtech's no cost project planning and design-build construction approach, the schools can receive a high quality educational facility faster, and much less expensive than with other site construction alternatives. "This will have a very positive impact on our ability to assist private and faith-based schools in the pre-planning stages of their facility requirements" according to Gary White, Ramtech's vice-president of sales and estimating. "As a full service design-build construction company, we can provide them with a first-hand look at what can be done using our approach to temporary and permanent modular buildings." As a single-source design-build construction firm Ramtech can also provide full design, manufacturing, and site construction, or the company can work with the a designated outside design and construction team as a strategic subcontractor.
About Ramtech Building Systems
Since 1982 Mansfield, Texas-based Ramtech Building Systems has been providing innovative modular buildings for government agencies, healthcare providers, Fortune 500 companies, and educational institutions throughout the Southern United States. As a design-build construction company, Ramtech offers full in-house design, a manufacturer direct product, and complete site construction services all within a single-source solution. By emphasizing a value engineering approach, Ramtech has successfully completed over 3,000 prefabricated buildings for diverse projects of all sizes. For more information, visit the company's website at http://www.ramtechgroup.com.