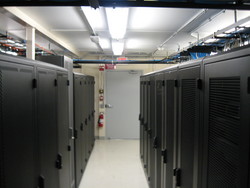 data center in a box
Kutztown, PA (PRWEB) August 26, 2008
Heavy hitters like IBM, Sun, and Google are all offering "data center in a box" products as a way to quickly deploy computing power. The pre-configured IT equipment is delivered to the data center site in a standard shipping container, where it is typically parked outside the building and connected to the required power, communications and cooling systems. For several years FIRELOCK® has been building fireproof modular server vaults, but with the emphasis on protecting the mission critical equipment and data housed within the server room, rather than speed of deployment.
The high costs for building-in the future cooling and UPS capacity for future expansion equipment is often the driver for examining this modular approach. But an examination of this modular expansion concept reveals that clients forego this common sense approach due to the inflexibility of the design module and the high incremental cost of each cubic foot of expansion. The use of these add-on modules are almost exclusively used for disaster recovery situations, where the business continuity requirements outweigh the high incremental costs.
It makes sense to protect the mission critical server room with a data-rated fireproof server vault chamber. Fortunately, the advantages of phased expansion can be applied to fire protection by installing a FIRELOCK® modular server vault. The modular panel design allows data center operators to protect the server racks they have now, and expand the fireproof vault area as their server room footprint grows.
It is inconceivable to build a data center without a fire suppression system to protect the equipment. No IT professional would even consider it. IT systems are too important to most organizations' survival to count on sprinkler systems alone to protect them from external fires. The server room must be able to survive a building fire, the fire fighting efforts of the building's sprinkler system and the high pressure hoses of the firefighters themselves. This mandates that a secure server room must be in fact, a server vault chamber.
The heat-sensitive nature of IT equipment--and perhaps even more important--the information stored upon that equipment, requires a Class 125 Fire-Rated vault to protect it. This vault can withstand heavy hose streams, the smoke and steam of a building fire as well as explosive fire development of the structure. The vault must be able to do this and still maintain a vapor tight chamber to protect the servers. FIRELOCK® server vaults are rated at least Class 125-2 Hour, which means the temperature must be held below the 125-degrees F. threshold for at least a two hour period with temperatures up to 2,000-degrees F. outside the vault. FIRELOCK® achieves this level of performance with a comprehensive vault system. The modular vault panels that comprise the walls and roof structure utilize ceramic fiber, a high temperature industrial insulating material, to provide unsurpassed fireproofing and heat protection. Because there is no single fire door on the market that can provide Class 125 protection, a double door assembly is installed. These doors are equipped with automatic closers that are activated by heat, smoke, flammable gas or power failure. Specially insulated penetrations for power and network cables, coolant lines, and air ducting are installed to ensure there are no weak links in the chain. The cost difference between installing a data-rated vault versus conventional gypsum board structures is negligible, especially when compared to the value of the IT infrastructure and information that must be safeguarded.
A common misconception among architects and facilities designers is that fire rated gypsum board will adequately protect heat-sensitive IT infrastructure. Unfortunately, standard fire ratings focus on how long it takes flame to penetrate a layer of gypsum board, not how much heat is being transferred through the barrier. Because gypsum board is a high-density material, it conducts heat very quickly. Heat-sensitive servers and data are destroyed long before flames penetrate traditional fire rated structures. Class 125 door systems, cable penetrations, coolant line penetrations and dampers are also overlooked in conventional facilities.
The "Modular Expansion" that the shipping container modules hope to target can be more easily achieved with an internally located server vault chamber. This chamber can be expanded as required with panels that offer phased expansion with simple interlocking panel add-ons. The new add-on occurs while the data center or server room operates and then at the final phase of construction, a removable panel opens the new addition to the existing data center. All the wire management, fire suppression systems and HVAC are in place for a smooth transition.
The "data center in a box" concept is well suited to applications such as disaster relief efforts, military operations, data center migrations (for temporary use), or rooftop deployment for facilities that run out of room. Critics of this concept have raised questions about physical security for containers full of IT equipment parked outside the facility. A single connection point for the dense power and communications services required is also cause for concerns about reliability. Then there is the question of what to do if you need to open the container during a rainstorm, or other adverse conditions.
One other use for "data center in a box" containers is as a temporary (and costly) replacement for IT equipment that has been damaged or destroyed by fire. Failure to protect the data center may create just such a need. For conventional data center applications, a modular fireproof vault offers the design flexibility needed to optimize data center operations and protect mission critical information.
About FIRELOCK®
FIRELOCK® provides custom design expertise and manufactures and installs modular server vaults and media storage vaults in a variety of sizes, from small rooms up to 25,000 cu. ft. These vaults are designed to provide UL Class 125 fire protection, along with environmental controls for your critical or vital information assets. Lightweight, expandable panel systems are available to construct fire-safe and heat-safe vaults for the protection of IT infrastructure, magnetic media, micrographic media, and optical disks. The FIRELOCK® vault is the highest rated fire protection storage environment for heat-sensitive processing equipment and computer media available in the industry. Our client list includes service organizations of all types and sizes from diverse industries, ranging from hospitals and pharmaceutical companies, to major financial houses and State and Local Government offices. Information about FIRELOCK® is available at http://www.servervaulting.com.
###