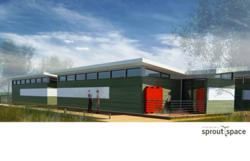 (PRWEB) June 20, 2013
A highlight of the Washington DC Modular Construction Summit will be a panel discussion with the architects, builders and contractors involved in the modular aspects of the Greens Schools Exhibit at the National Building Museum -- including Perkins + Will, the firm that designed Sprout Space net zero green modular classroom. After the panel discussion, attendees will walk to the Museum to see the exhibit, where Sprout Space is displayed in its entirety on the front lawn.
Sprout Space operates with significantly lower utility costs due to sustainable design features such as sun shades, integrated rainwater collection, photovoltaic roof panels, LED lighting coupled with lighting controls, efficient heating and cooling systems, generous day lighting, operable windows and natural ventilation. These strategies help the building operate as a net-zero energy building, with the eventual goal of providing an energy independent classroom.
The materials in Sprout Space have been carefully selected to prevent off-gassing and create the healthiest indoor air possible. The prefab classroom also utilizes the most efficient heating and cooling technology while providing ample fresh air, which has been proven to improve children's performance in the classroom.
In addition to the "High Performance Green Schools" panel, the DC Modular Summit offers two additional forums. "Modular Solutions for Large Mixed-Use Projects" will feature projects from Virginia Tech, Deluxe Building Systems, Champion Commercial Structures and Onion Flats. During "Changing the Way the World Builds: Innovation in Modular Construction," speakers from Catholic University, Whiting-Turner, NRB, Inc., PIVOTek and Walden Structures will showcase some of the latest trends in modular construction.
Keynote speaker Henry Green, President of the National Institute of Building Sciences, will talk about the new NIBS Offsite Construction Council. NIBS is an NGO that leads in the pursuit of high performing and sustainable buildings, including the use of modular and other forms of offsite construction. Authorized by the U.S. Congress, NIBS provides an authoritative source and a unique opportunity for free and candid discussion among private and public sectors within the built environment.
Open to the general public, the Summit will take place at the Hyatt Regency Washington on Capitol Hill. Press passes, as well as building and education industry complimentary registrations, are available. Contact Tracey Daniels at tracey[at]modular[dot]org.
About MBI
Changing the Way the World Builds: Greener, Faster, Smarter. The Modular Building Institute is the international nonprofit trade association that has served the modular construction industry for 30 years. Members are suppliers, manufacturers and contractors involved in all aspects of modular projects -- from complex multistory solutions to temporary accommodations. As the voice of commercial modular construction, MBI expands the use of offsite construction through innovative construction practices, outreach, education to the construction community and customers, and recognition of high-quality modular designs and facilities. For more information on modular construction, visit http://www.modular.org.