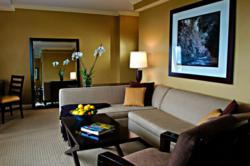 The differentiation of Modus Hotels is recognizing that what makes our brand different is what makes it most interesting.
Washington, DC (Vocus/PRWEB) March 10, 2011
Today Washington, DC-based Potomac Hospitality Services (PHS), a leading independent hotel development and management company, announced the unveiling of Modus Hotels, the new brand and identity for the company's growing collection of boutique, business-minded hotel properties.
"For three years we have been building this new scalable organization, with an aggressive proactive direct sales team, a savvy finance organization, a sophisticated revenue management team and a guest experience focused operations staff to improve the profitability of our hotels and position ourselves for future growth," said Aaron Katz, President of Modus Hotels and Potomac Hospitality Services and Executive Vice President of Cafritz Interests, the company's investment arm. The announcement coincides with the 35th Anniversary of PHS, and provides a new platform for more acquisitions and for enhanced business strategy through brand awareness and cross selling capabilities for PHS property owners.
"The differentiation of Modus Hotels is recognizing that what makes our brand different is what makes it most interesting. We carry that standard through all we do with our modern yet modest approach, our dedication to service, and to providing a stay experience that truly matches our guests' personality," said Jerry Early, Senior Vice President of Revenue for PHS and Modus Hotels.
"With Modus Hotels, we have created a brand promise – to allow our guests to be themselves with warm and mindful environments for work, for pleasure, or for relaxation, but without attitude or pretention," added Katz.
The current portfolio of Modus Hotel properties is less design-dependent and more residential in feel. Each Modus Hotels property embraces its location and surroundings, and offers guests genuine service provided by caring and highly dedicated, personable staff and associates to allow guests to personalize their hotel stay.
The ten different Modus Hotel properties include eight hotels in Washington, DC, and one each in Philadelphia, PA (The Windsor Suites) and Chicago, IL (Comfort Suites Chicago). In and around the nation's capital, Modus Hotels are primarily found in the Foggy Bottom / Georgetown neighborhoods and include: One Washington Circle Hotel; George Washington University Inn; 2424 Penn; The River Inn; The Quincy Hotel; the Hotel Monticello of Georgetown; Washington Suites Georgetown and the Virginian Suites, in Rosslyn, Virginia. Starting with the first property in 1976, One Washington Circle Hotel, PHS purchased, renovated and/or converted the properties to the unique hotels they are today.
In the fourth quarter of 2011, Modus Hotels will unveil Avenue Suites, the converted and repositioned Washington Suites Georgetown at 2500 Pennsylvania Avenue into a more upscale boutique hotel with a contemporary lobby, new guest rooms, enhanced amenities and vibrant new façade on Pennsylvania Avenue.
About Potomac Hospitality Services and Modus Hotels
An affiliate of Cafritz Interests, Potomac Hospitality Services (PHS) is a long-standing and successful hotel company that has owned and operated hotels and lodging facilities since 1976. Led by Washington, DC real estate developer Conrad Cafritz, PHS is a full service hotel management company providing a complete range of management and investment services with a flexible suite of options for specific involvement or as a complete third party management relationship. Modus Hotels is the consolidation brand for PHS owned and managed properties, and is an affiliated firm of Cafritz Interests, which operates in a number of market sectors including office, hotel, restaurants, residential, senior living, student housing and industrial. In addition to acquisitions and development, Cafritz also provides comprehensive property management services. For more information, visit http://www.modushotels.com, or http://www.potomachospitality.com.
# # #