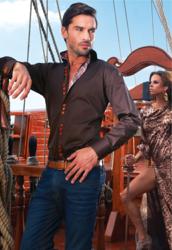 The New York boutique is also celebrating their rapidly increasing popularity and sales that have continued to grow rapidly by double digits year on year.
New York, NY (PRWEB) August 13, 2012
After losing their business at the peak of America's recession in 2008, two Haitian brothers began to sell luxury mens dress shirts online and have now marked the fourth anniversary of their high-end fashion men's clothing store, Modus man, on August 1, 2012. The New York boutique is also celebrating their rapidly increasing popularity and sales that have continued to grow rapidly by double digits year on year.
"We're so excited to be celebrating our fourth year in business and our thriving sales are in stark contrast to when we first started and had no money at all – in fact we couldn't even afford to pay our electricity or rent!", exclaims Modus man's co-owner, Mr Stanley Saint-Amand.
"In such distress, most people would be searching for a steady job. However, real entrepreneurs can only jump into their next venture no matter how bad the economy is and that's exactly what we did – despite having no previous experience in fashion. But, just 8 minutes after we launched, a lady from the UK purchased 3 shirts for her husband and at that exact moment, we knew we had a viable business."
While this mens clothing store originally launched in Miami, the brothers moved the company to New York City in July 2010, deeming it to be a much better hub for both fashion and internet marketing talent.
This followed a tumultuous year for the pair, with Mr Saint-Amand being a survivor of the Haitian earthquake that claimed the lives over 250,000 people in the January, 2010. In total, Mr Saint-Amand spent four months in his home country tending to his ailing father and volunteering for Red Cross, but despite these obstacles, Modus man continued to grow consistently.
Since this time, Modus man has become a core destination for New York's fashion elite and now sells to customers worldwide. The company's owners have been able to benefit from a nationwide increase in demand for luxury goods, which has been reported to have grown by double digits since the end of the financial crisis.
As Mr Saint-Amand's brother and business partner, Reginald Saint-Amand reveals, "We like to think of Modus man as the best kept secret for men's fashion and accessories in New York and online. Our promise to our customers is to provide 'a movement against boring' and we pay special attention to the selection of merchandise – quite simply, you will not find such a unique collection at other boutiques or a regular department store.
"For example, we sell a range of beautiful hand-made mens designer shoes, the majority of our dress shirts have square buttons, double-sided fabrics and leather cuffs, and the bulk of our polo shirts for men have two hidden buttons in the collar in order to keep a straight collar and prevent sagging."
"We were also the first New York Boutique to introduce the legendary French Watch Designer, Auricoste who was established back in 1854 and as such we can cater for the most discerning shopper looking for the world's most expensive watch."
For more information about Modus man and their range of luxury men's fashion items, visit http://www.ModusMan.com
About Modus man
Out of the recession that crippled America, rose a pair of newcomers to the men's fashion retail industry, who have now celebrated the fourth anniversary of their luxury New York fashion boutique, Modus man, which stocks the best in men's dress shirts, polo shorts, dress pants for men, belts, watches, and other accessories.
Modus man was born to create a movement against boring fashion, and allows men to be effortlessly charming while graduating to a higher sense of self. Modus man stands for unequivocal quality and a relentless search for effortless elegance as the company's two owners continue their passionate quest across the world for great troves in men's fashion.