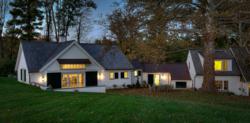 The studio is a triumph of design simplicity and function
Chadds Ford, Pennsylvania (PRWEB) August 08, 2012
Chadds Ford Pennsylvania artist, Nancy Adler recently moved into her new artist studio designed by Moger • Mehrhof Architects. The studio is set in a soft rolling hillside amongst the historic horse farms made famous by Andrew Wyeth. The 1,000 square foot structure serves as studio space as well as presentation gallery. A towering pyramid ceiling and large windows to the north bathes the studio in indirect natural daylight. "The layout and aesthetic of Matthew's design inspires me to be more creative in my painting", says Ms. Adler. "My new studio is a triumph of design simplicity and function."
The Adler Studio also won the American Institute of Architects,Chesapeake Bay Chapter's 2011 Design Award.
Following the contours of the hillside and existing heritage trees, Matthew Moger integrated a light-filled hallway gallery that provides an impressive arrival sequence to the studio. The space is more than a single purpose studio. The suite has a full bath, kitchenette and library. The pyramid structure is stabilized with iron turnbuckles attached to a large center ring.
"It's very dramatic," says, Moger. "It was important to me to understand the core and passion of Nancy's art. We designed a space that reflected her style of painting and captures the elegant equestrian nature of Chester County farm houses and barns."
Matthew Moger is a principal at Moger • Mehrhof Architects of Wayne, PA and Annapolis, MD. He is a veteran of sustainable design and architecture.