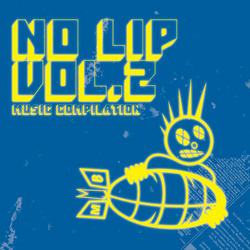 This compilation is even better than the first one
Clearwater, FL (PRWEB) February 23, 2009
Mohawk Bomb Records announces the release of No Lip Vol. 2. Available through Mohawk Bomb Records Online Store and via all major online music services (iTunes, Amazon, eMusic, Rhapsody and Napster), the compilation features 14 songs spanning the entire Rock music spectrum.
No Lip Vol. 2 celebrates independent bands from all over the World, with bands from Florida, California, Texas, Washington, England and Australia. Among the songs featured are previously unreleased tracks by Soulfound, The Redlight Stare, Ascending to Avalon and Soul Destroyer. Also, returning are 900 Pound Gorilla, Bull Lee and Drew Street Mary (along with Soulfound) who were all featured on No Lip Vol. 1. Rounding out the rest of the lineup are "Wife Swap" reality TV stars 3 Kisses from Austin, Texas; Florida punk veterans Rude Squad and Offshore Riot; California's riff rockers Black Diamond Love and indie hipsters Wits End; and VerleeRose, a new acoustic duo still in their early teens.
Mohawk Bomb Records is a record label and marketing agency that specializes in finding new approaches to the currently crippled music business distribution model. Since its inception, Mohawk Bomb Records has released 3 albums and 2 compilations, including Soulfound's 2008 full length album Is a Rock Band. Creative Loafing Tampa named the label "Best New Independent" in 2008.
"This compilation is even better than the first one," stated Mohawk Bomb Records CEO and Soulfound vocalist/bassist Ivan Pena. "With No Lip Vol. we were still getting our process ironed out. Now, we understand where we went wrong and have worked out the kinks."
No Lip Vol. 2 was mastered by award-winning producer and engineer Steve Connelly at his studio, Zen Recording, in Pinellas Park, Florida.
To learn more about Mohawk Bomb Records and to purchase No Lip Vol. 2, visit mohawkbomb.com.
###