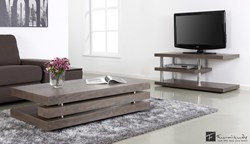 There seems to be an incredible disconnect in the Australian furniture industry where consumers can either get good quality furniture at exorbitant prices or pay less and settle for poor quality
Melbourne, VIC (PRWEB) October 01, 2013
Newly launched furniture brand, Furnitude is set to revolutionise the furniture industry in Australia by offering consumers luxurious, on-trend furniture at pocket-friendly prices.
Furnitude is the newest baby of successful furniture business owners, Matt and Jon Thomson. Having started their successful and affordable online furniture business, Mojo Direct, in 2006 the duo have now taken on a new venture with Furnitude.
"There seems to be an incredible disconnect in the Australian furniture industry where consumers can either get good quality furniture at exorbitant prices or pay less and settle for poor quality. With Furnitude, we want to bridge this gap and bring stylish furniture to Australians at affordable prices," said Matt Thomson, founder of Furnitude.
With their passion and knowledge of furniture and the industry, the Thomsons see Furnitude as a brand that is set to challenge the status quo with its high end contemporary design and quality offerings at low end prices; a combination rarely seen together in furnishings.
"Our goal is to make modern furniture easily available for anyone, anywhere in Australia, not just in the big cities. The average Australian shouldn't have to pay over-inflated prices for beautiful furniture and we want to make this possible," conclude Thomson.
In a post-recession era where consumers are looking to stretch their dollar as far as it will go, quality affordable furnishing options from Furnitude might be the answer for many Australian households.
Furnitude products are available online via Mojo Direct - http://www.mojodirect.com.au
About Furnitude: Furnitude (http://www.furnitude.com) is an Australian furniture brand offering contemporary and modern furniture at affordable prices. Owned and operated by Mojo Direct, the Melbourne based brand is known for it's stylish and creative furniture range.